Das Album des Jahres
Hawkwind: "Space Ritual" (United Artists, Mai 1973)
Mein erstes selbst gekauftes Album: Weihnachten 1973 bei Radio Bohlen in Dinslaken für stolze 29 DM erstanden, nachdem ich das Lied "Born To Go" im Radio gehört hatte (entweder bei Winfried Trenkler oder Alan Bangs). Auch nach 3 Jahrzehnten finde ich dieses Live-Doppelalbum immer noch klasse! Irres Klapp-Cover! Eine Nackt-Tänzerin! Synthesizer! Audio-Generatoren! (wat is dat denn?) Der schlechteste und gleichzeitig beste Saxofonist des Rock'n'Roll! Science-Fiction-Gedichte live rezitiert! Lemmy am Bass! Wo aber war bloß die "Silver Machine" abgeblieben?
Mehr ...
weitere Highlights ...
The Beach Boys: "Holland" (Brother, Jan. 1973)
Eigentlich waren die Beach Boys damals auf dem Tiefpunkt ihre Karriere (Brian Wilson war ein hilfloses Drogenwrack), als irgend jemand die verrückte Idee hatte, in Holland ein Platte aufzunehmen, wozu ein ganzes Studio in Einzelteilen von Kalifornien in die Nähe von Hilversum geschafft wurde (ihr solltet mal den interessanten Bericht über das Entstehen der Platte lesen!). Trotz all der widrigen Umstände entstand eine wunderschöne Platte - und sogar Brian Wilson war dabei. Sie enthält mit "Sail On Sailor" eines meiner absoluten Lieblingsstücke von ihm. Neben dem harten Kern um Brian, Carl Wilson, Dennis Wilson, Mike Love und Alan Jardine gehörten zu dieser Zeit auch die beiden südafrikanischen Musiker Ricky Fataar (Schlagzeug) und Blondie Chaplin (Gitarre) fest zur Band.
Mehr ...
Frankie Miller: "Once In A Blue Moon" (Chrysalis, Jan. 1973)
"This first album by Scotland's Frankie Miller features pub-rock favorites Brinsley Schwarz as his backup band. That alone is reason enough to own this record. Add to that a nice batch of songs (mostly originals) and you have an enjoyable album." (Jim Worbois, All Music Guide)
Bruce Springsteen: "Greetings From Asbury Park" (Columbia, Jan. 1973)
Das Debütalbum von Bruce hatte ich Mitte oder Ende der 70er mit meinem alten Phillips-Tonbandgerät mitgeschnitten. Die Bänder existieren lange nicht mehr, sodass ich auch diese akustischen Grüße ewig nicht mehr gehört habe. Kürzlich kam mir das Album aber im MP3-Format unter die Finger, wobei mir aufgefallen ist, was für ein tolles Album ich da jahrelang verdrängt habe. Jedes der Lieder ist anders, jedes ist klasse. Im Nachhinein nicht nachvollziehbar, warum Bruce nicht bereits mit diesem Album den großen Durchbruch schaffte. Merkwürdigerweise bin ich trotzdem selber nie zum großen Springsteen-Fan geworden, obwohl ich "Born To Run" und besonders "Darkness On The Edge Of Town" - und im Grunde auch dieses hier - für gr0ßartige Alben halte. Aber irgend wie war mir der Mann ab den 80ern einfach zu präsent. Oder seine Alben wurde (aus meiner Sicht) einfach nur schlechter.


(12.02.2009)
Atlantis (Vertigo, Feb. 1973
Atlantis waren im Grunde die runderneuerten Frumpy: zu Sängerin Inga Rumpf, Keyboarder Jean-Jacques Kravetz und Bassist Karl-Heinz Schott kamen Gitarrist Frank Diez und Trommler Curt Cress, die Jahre später dann zur Créme der Deutschrock-Mucker gehörten und oft bei solchen Herrschaften wie Udo Lindenberg und Peter Maffay zu sehen und zu hören waren. Curti hielt es damals aber nicht lange bei Atlantis und war bereits bei der anstehenden Englandtournee durch niemand anderen als Udo Lindenberg ersetzt worden, der beim zum Jahresende erscheinenden Nachfolgealbum "It's Getting Better" aber seinen Platz schon wieder für Ringo Funk (Ex-Jeronimo, falls das jemanden interessiert) geräumt hatte. Die Platte verkaufte sich damals kurioserweise schlechter und war weniger beliebt als das zeitgleich veröffentlichte posthume Livealbum von Frumpy, was Frau Rumpf und ihren treuen Gesellen sicherlich mit lachendem (wegen der zusätzlichen Einnahmen) und weinendem Auge (wegen der offensichtlichen Missachtung der musikalischen Weiterentwicklung der Band durch die Kundschaft) gesehen haben.
Zurück zur Musik: aufgenommen Ende 1972 in England mit dem Produzenten John Burns (Genesis), poppiger und gleichzeitig jazziger (bzw. funkiger!) als Frumpy, wie immer toller Gesang von Inga, tolles Gitarrenspiel, tolle Tastenklänge von Jean-Jacques und Gastmusiker Jean Roussel (sonst bei Cat Stevens, u.a., auch Franzose wie Herr Kravetz?). Teilweise klingt's wie Traffic, was vielleicht auch daran liegt, dass deren Congamann Rebop Kwaku Baah mit im Studio war.
Mehr ...
The Byrds (Elektra/Asylum, Feb. 1973)
McGuinns letzte Byrdsbesetzung hatte gerade ihr Abschiedskonzert gegeben (Clarence White, der kurz darauf bei einem Autounfall verstarb, Chris Hillman und Joe Lala als Ersatz für die gekündigten Skip Battin und Gene Parsons), als durch David Geffen (der damals für das neue Asylum-Label alle möglichen Leute unter Vertrag nahm - sogar Bob Dylan) das Angebot für eine Byrdsplatte in Originalbesetzung (Roger McGuinn, David Crosby, Gene Clark, Chris Hillman und Michael Clarke) kam. Obwohl diese Platte sicher nicht den Vergleich mit den alten standhält und alle bis auf den Trommler Michael Clarke je 2 Songs beitragen, die meist schwächer als vergleichbare Titel von Soloplatten sind, fallen 3 Coverversionen positiv auf "For Free" von Joni Mitchell, "Cowgirl In The Sand" und "See The Sky About To Rain" von Neil Young. Nicht zuletzt wegen der schlechten Kritiken wurde diese Reunion nicht verlängert. Aus der zeitlichen Distanz finde ich aber, dass die Platte durchaus ihren Charme hat.
"Guru Guru" (Brain, Feb. 1973)
Viertes Album von Deutschlands bestem Gitarrentrio und bereits das zweite für das Kultlabel Brain. Weil die Band im nächsten Jahr zu Atlantic wechselte, was wohl als eine große Ehre angesehen wurde, aber kommerziell gnadenlos in die Hose ging, brachte Brain dann den 10-DM-Billigsampler "This Is Guru Guru" als Kombination jeweils der Hälfte von Album Nr. 3 (dem genialen "Känguru") und diesem hier heraus, den ich mir stattdessen kaufte: damals kosteten normale LPs immerhin 22 DM und der "Elektrolurch" war ja schließlich dabei! Deshalb steht dieses Album mit dem wunderschönen Cover erst jetzt, mit 30 Jahren Verspätung, als CD-Wiederveröffentlichung in meinem Plattenschrank! So weit ich weiß haben die drei Atlantic-Platten von 1974/75 immer noch nicht den Sprung in das CD-Zeitalter geschafft.


(April 2004)
Gypsy: "Brenda & The Rattlesnake" (United Artists, Feb. 1973)
Lost And Found!
Little Feat: "Dixie Chicken" (Warner, Feb. 1973)
Album #3 dieser Klasseband hatte ich doch bislang glatt in meiner Favoritenliste vergessen!
"Alles fügte sich zusammen bei Little Feats drittem Album. Die erweiterte Besetzung gab der Band ein geschmeidigeres, rhythmisches Fundament, über dem Slide-Gitarrist Lowell George einige seiner stärksten Nummern entfalten konnte. Gemeinsam entwickelten sie diesen maßgeschneiderten erdig-schweren, bluesigen Studiosound. Im Titelstück, aber auch in "Fat Man In A Bathtub" und "Two Trains" verarbeiteten Little Feat komplizierteste Rhythmen mit klagendem Backgroundgesang und scharfzüngigen Wortspielen zu einer absolut überzeugenden Soulrock-Melange. In vielerlei Hinsicht ist Dixie Chicken ein naher Verwandter des ein Jahr älteren Exile On Main Street von den Stones. Wenn auch etwas verschlossener daherkommend als das Stones-Meisterwerk, sind doch die Highlights auf Dixie Chicken ohne weiteres auf gleichem Niveau." (Steve Stolder , Amazon-Redaktion)
Traffic: "Shoot Out At The Fantasy Factory" (Island, Feb. 1973)
Dieses Traffic-Album scheint außer mir keiner zu mögen - so what.
John Martyn: "Solid Air" (Island, Feb. 1973)
Für mich eine der besten Martyn-Platten. Vor allem der Titelsong hat es mir angetan. In der Begleitung überzeugen Danny Thompson am Kontrabass, sowie Fairport Conventions Dave Pegg (bg) und Dave Mattacks (dr). Von den Liedern seien noch "May You Never", "Don't Want To Know About Evil" und "Man In A Station" erwähnt, die später von Eric Clapton, Santana, Dr. John und Ian Matthews gecovert wurden.
Fairport Convention: "Rosie" (Island, März 1973)
1972 war ein hartes Jahr für die Band. Nach "Babacombe Lee" hatte das einzige verbliebene Urmitglied Simon Nicol die Band verlassen und ließ drei frustrierte Daves zurück (Swarbrick, Mattacks und Pegg), doch schließlich fand man guten Ersatz mit zwei Nicht-Engländern: dem amerikanischen Gitarrenvirtuosen Jerry Donahue und dem australischen Sänger und Akustikgitarristen Trevor Lucas. Lucas war der Ehemann von Ex-Mitglied Sandy Denny und spielte mit Sandy und Jerry auch schon in der kurzlebigen Band Fotheringay zusammen. Insgesamt wurde der Stil der Band wieder etwas offener, mit etwas weniger Folk. Kein Nachteil. Das Titelstück ist eine der schönsten Lieder, die Dave Swarbrick je geschrieben hat.
"Christmas At The Patti" (United Artists, März 1973)
Das war wohl eine tolle Weihnachtfete damals am 19.12.1972 in Cardiff/Wales, als sich Man, Dave Edmunds und andere Bands aus deren Dunstkreis versammelt hatten. Mit dabei waren noch: Help Yourself, Ducks Deluxe und die damals von Man abtrünnigen Deke Leonard und Martin Ace. Das ganze wurde auf einem heute sehr raren 10"-Doppelalbum festgehalten.
Mehr ...
Gram Parsons: "GP" (Reprise, März 1973)
Grams Solodebüt nach dem Ausstieg bei den Flying Burrito Brothers und einer fast zweijährigen Pause, die er gerüchteweise kiffend bei den Aufnahmesessions der Stones für "Exile On Mainstreet" in Frankreich verbracht hatte, kann man als gelungen betrachten: er heuerte die Musiker der Elvis Presley-Band an (alles Nashville-Spitzenkönner wie James Burton und Glen D. Hardin) und wählte als Gesangspartnerin Emmylou Harris. Im September 1973 verstarb er leider kurz nach den Aufnahmen zum zweiten Album, welches dann erst posthum erschien. Emmylou führte mit den o. g. Musikern als "Hot Band" sein Erbe weiter. Ähnlich wie bei Velvet Underground verkauften sich beide Platten damals sehr schlecht, inspirierten aber viele andere Musiker dazu, an der Verbindung von Country und Rock'n'Roll weiter zu arbeiten, sodass Gram Parsons heute zurecht (?) als Urvater dieses Genres gilt ("es wurden damals zwar nicht viele Platten verkauft, aber jeder der es tat gründete anschließend eine Band...").
Ähnlich wie bei Tim Buckley, Jimi Hendrix und anderen Künstlern hat der frühe Tod natürlich zur Legendenbildung beigetragen. Zyniker würden sagen, er hatte durch den "Abgang" auf dem künstlerischen Höhepunkt die "Glück", keine schlechte Platten veröffentlichen zu können. Ich halte das für Blödsinn: hört euch die Platten von Parsons an und lasst euch von der wunderschönen Musik überzeugen (es gibt übrigens beide Soloalben zusammen auf einer CD: das ist so, als würde Atlantic "Led Zeppelin III" und "Led Zeppelin IV" auf einer CD herausbringen!)
Anspieltipps: das von Waiting For Louise gecoverte "A Song For You", "She", "Ashes In The Morning" und "Still Feeling Blue". Produziert wurde die Platte von Gram und dem ehemaligen Blind Faith/Traffic-Bassisten Ric Grech.
Mehr ...
John Cale: "Paris 1919" (Reprise, März 1973)
Eine wundervoll poetische Platte mit schönen Orchesterarrangements, die damals dem ehemaligen Bassisten, Pianisten und Bratschenspieler der schrägen Velvet Underground kaum jemand zugetraut hatte. Vor allem nicht nach dem anstrengenden Avantgarde-Vorgängeralbum "Academy In Peril". In der Begleitband findet man mit Bill Payne, Lowell George und Richie Hayward gleich drei Little Feat-Musiker: eine nicht unbedingt nahe liegende, aber funktionierende Kombination.
Anspieltipps: "Andalucia" (eines seiner besten Lieder!), "Hanky Panky Nohow" und "Half Past France".
Terry Callier: "What Color Is Love" (Cadet, März 1973)
gute Musik und ein hübsches Covergirl
Led Zeppelin: "Houses Of Holy" (Atlantic, März 1973)
Das erste Album, das ich von Led Zep damals wahrgenommen habe und deshalb für mich auch wichtiger als die Alben 1-4. Enthält mit "Rain Song", "Ocean", "The Song Remains The Same" und dem Reggae "D'yer Make'er" ein paar echte Killertracks. Außerdem ist das ein geniales Cover.
Terry Reid: "River" (Atlantic, März 1973)
Zu Terry Reid "Karriere" kann man nur sagen: was für eine Verschwendung von Talent! Einer der besten britischen Rocksänger hat es nach einem Hitalben in den späten 60ern in England seit den 70ern bis heute in seiner Wahlheimat USA nur zu vier Platten gebracht, die teilweise genial (wie diese) und teilweise nicht ganz so genial waren, aber in jedem Fall kommerzielle Flops. In der 73er Truppe spielte übrigens David Lindley seine unnachahmliche Slidegitarre!
Eine kleine Anekdote am Rande: Jimmy Page wollte Terry Reid als Sänger für die späten Yardbirds gewinnen. Dieser lehnte aber wegen seiner "Solokarriere" ab und empfahl stattdessen den damals völlig unbekannten Robert Plant. Dieser wurde zwar nicht der neue Yardbirds-Sänger, aber ...
Mehr ...
King Crimson: "Larks' Tongue In Aspic" (Island/E.G., März 1973)
Auf dem fünften Album versammelte Robert Fripp eine komplett neue Truppe um sich: Bill Bruford (dr), John Wetton (voc,bg), David Cross (vio) und Jamie Muir (perc). Auch der Texter Peter Sinfield war nicht mehr dabei. Diese Besetzung hielt relativ lange (zumindest der Kern Fripp/Bruford/Wetton war auch auf dem nächsten Album "Red" zu hören) und produzierte hier ein schräg/schönes Werk.
Mehr ...
Pink Floyd: "Dark Side Of The Moon" (EMI/Harvest, März 1973)
Kürzlich aus völlig unerfindlichen Gründen für mich wieder entdeckt: Pink Floyd in den frühen bis mittleren 70ern. Vor allem mein Lieblinxalbum "Wish You Were Here", das erste, das ich mir damals angeschafft hatte, dann vielleicht etwas überraschend "Relics", die Resteverwertung von 1971 mit den frühen Singles von Syd Barrett, aber eben auch diesen ersten "Megaseller". Wenn man das Album nicht zu oft hört, dannist es wunderschön. Leider lief es damals permanent und überall und hat mich, wie ich eben so bin, schnell genervt.


(05.01.2009)
Eagles: "Desperado" (Elektra/Asylum, April 1973)
Der zweite Streich der Adler, immer noch toll (weil immer noch mit Bernie Leadon!), noch vor ihrer Superstarperiode ab "Hotel California". Neben dem wunderschönen Titelsong (von Don Henley gesungen) liebe ich besonders heiß und innig Glenn Frey's "Tequila Sunrise".
Kevin Ayers: "Bananamour" (EMI/Harvest, Mai 1973)
Damals ist dieses doch recht schräge Album noch komplett an mir vorbei gegangen: somit hier also eine "späte Entdeckung". Ayers spielte mal Bass bei Soft Machine, war aber für deren Entwicklung hin zum Jazzrock nicht zu haben. Er schied aber wohl nicht im Streit, denn seine ehemaligem Kollegen Robert Wyatt und Mike Ratledge sind hier als Gäste dabei. Stattdessen wandelte er sich zum Singer/Songwriter mit viel schön/schrägem britischen Charme und Humor, wodurch seine markante Stimme wesentlich besser zum Tragen kam (schön tief und wohl sehr sexy - soweit ich das als Mann beurteilen kann!). Unter den Songs ragen das 8minütige "Decadence", Nico gewidmet und auf's heftigste nach den Velvet Underground klingend, das folkige "Shouting In A Bucket Blues" mit treibender Akustikgitarre von Herrn Ayers und einem schönen Gitarrensolo von Steve Hillage, sowie die 6/8-Soulballade "When Your Parents Go To Sleep" (scharfe Bläser, die in meiner remasterten CD so richtig reinknallen, und ein affenscharfer Chor mit 2 Mädelz und einem Burschen: klingt verdammt nach Otis Redding - also eine verdammt hohe Messlatte!) heraus.
Einziger nervender Punkt und auch eine Premiere: meine erste CD mit Kopierschutz: als wenn mit Kevin Ayers-Raubkopien in großem Stil Geschäfte zu machen wären! Zumindest läuft die CD nach anfänglichem Ruckeln in meinem PC.
Paul Kantner, Grace Slick & David Freiberg: "Baron von Tollbooth & The Chrome Nun" (RCA/Grunt, Mai 1973)
Die Platte habe ich mir eigentlich nur wegen des tollen Covers und Titels gekauft, da ich kein so großer Jefferson Airplane-Fan bin, als dass ich auch alle "Nebenprojekte" der Leute besitzen muss. Es stellt sich aber heraus, dass es fast ein "richtiges" Airplane-Album, sogar eins der besseren, ist. Immerhin war David Freiberg (Ex-Quicksilver Messenger Service) zuletzt auch JA-Mitglied (als Ersatz für Marty Balin). Bei einzelnen Songs sind sogar die JA-Kollegen und Hot Tuna-Separatisten Jorma Kaukonen und Jack Casady dabei. Die meisten Gitarrenparts werden aber vom damals hyperfleißigen Jerry Garcia und dem späteren Jefferson Starship-Crewmitglied Craig Chaquico gespielt.
Tom Waits: "Closing Time" (Elektra/Asylum, Mai 1973)
Waits Debüt hatte noch nichts von dem wüsten Stil der späteren Jahre (z.B. "Swordfishtrombones"), ist aber trotzdem eine gelungene Singer/Songwriterplatte mit vielen bekannten Liedern: "Ol' 55" (von den Eagles gecovert), "Martha" (einer der wenigen Songs, den Tim Buckley je gecovert hat!) und "Rosie" (haben die Beat Farmers mal aufgenommen).
"Copperhead" (Columbia, Mai 1973)
Copperhead gab's nur eine Saison. Es war der Versuch, um den Gitarrenhexer John Cippolina eine erfolgreiche Truppe aufzubauen. Woran die ganze Sache dann trotz dieser einen tollen Platte scheiterte, ist mir unklar: auf jeden Fall wurden sie vor dem (großen?) Durchbruch von ihrer Plattenfirma wie eine heiße Kartoffel wieder fallen gelassen und das war's dann.
Dr. John: "In The Right Place" (Atlantic, Mai 1973)
Dr. John aus New Orleans war bekannt als der Voodoo-Priester des Rock, aber eigentlich ein ziemlich guter Blues- und Soulpianist und -sänger. Auf dieser Platte war er weg von den Verkleidungsmätzchen der Vorjahre und lieferte mit dem Produzenten Allen Toussaint und den Meters (Organist Art Neville, Bassist George Porter, Gitarrist Leo Nocentelli und Trommler Zigaboo Modeliste) als Begleitband eine überzeugende Platte mit zwei seiner wichtigsten heutigen Konzertklassiker ab: "Right Place, Wrong Time" und "Such A Night".
Mehr ...
Gong: "Flying Teapot" (Byg/Virgin, Mai 1973)
Teil 1 "The Radio Gnome Invisible Trilogy". Teil 2, "Angel's Egg", kam schon wenige Monate später.
Mehr ...
Can: "Future Days" (United Artists/Spoon, Juni 1973)
Die dritte Produktion Deutschlands bester Rockband mit dem japanischen "Sänger" Damo Suzuki war m. E. die letzte Großtat der Band. Danach ließen sie ein wenig nach (was allerdinx bei Musikern solchen Kalibers immer noch mehr ist, als andere je schaffen werden!).
Van Morrison: "Hard Nose The Highway" (Warner, Juni 1973)
Dieses Morrison-Album hat es mir nicht leicht gemacht! Gekauft habe ich es erst lange nachdem ich die beiden Killeralben Tupelo Honey (von 1971) und Veedon Fleece (von 1974) schon als Doppelalbum hatte (vielleicht kennt der eine oder andere von euch ja noch diese "Twoofer"-Doppelalben: "Two Originals Of ..."). Auf jeden Fall schien für mich dazwischen lange Zeit erstmal kein Platz für mehr Van Morrison zu sein. Als ich mir die Platte dann irgendwann doch mal billig gekauft habe (wahrscheinlich bei Zweitausendeins"), schreckte mich zuerst der klassische Chor in der Eröffnungsnummer "Snow In San Anselmo" ab. Danach kommt aber die schöne Singleauskopplung "Wild Love", die auch auf Tupleo Honey gepasst hätte. Und im Titelstück läuft Van schließlich doch noch zu Höchstform auf. Insgesamt vielleicht nicht Vans Meisterwerk - aber immer noch besser als das, was die meisten anderen "Künstler" so rauslassen! Und wie gefällt euch das schöne Covergemälde? So was gibt's heute leider nicht mehr!
Pink Fairies: "Kings Of Oblivion" (Polydor, Juni 1973)
Dies ist bereits das dritte Album des britische Heavy-Blues-Rock-Trios, aber das erste mit dem neuen Sänger/Gitarristen Larry Wallis. Eine Band, die "Pink F." heißt und auf dem Cover fliegende Schweine hat: höre ich da jemanden "geistigen Diebstahl" rufen? Bedenke er doch bitte das Erscheinungsjahr dieser "Könige der Vergessenheit". Nomen est omen. Leider.


(13.07.2008)
Mehr ...
Carlos Santana & John McLaughlin: "Love Devotion Surrender" (Columbia, Juni 1973)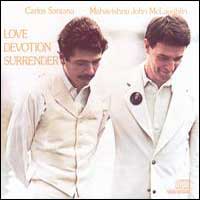 Auch ich konnte damals bei Veröffentlichung mit dem Album nichts anfangen, denn es geht hier beim gemeinsamen Album der Gitarrenstars aus den Sparten Rock und Jazz um eine Hommage an den großen John Coltrane, von dem "A Love Supreme" und das wunderschöne "Naima" gespielt werden. Gleich vier Drummer sind zu hören: Billy Cobham und Jan Hammer vom Mahavishnu Orchestra, Mike Shrieve von Santana sowie Jazzer Don Alias. Wer sich jetzt wundert, warum Jan Hammer nicht hinter den Keyboards saß, der sollte wissen, das die Orgel von einem der allerbesten bedient wird: Larry Young. Laßt Euch auch nicht von der Guru-Frömmerlei abschrecken, an der ich selber eigentlich nichts störendes finde, solange hier nicht bekehrt werden soll, denn es geht um nichts als Musik. OK - die weißen Anzüge sehen ziemlich beknackt aus. Aber: was soll's?


(04.09.2009)
Gila: "Bury My Heart At Wounded Knee" (Warner, Juli 1973)
Lost & Found!
(13.07.2008)
Mehr ...
Krokodil: "Sweat And Swim" (Bellaphon/Bacillus, Juli 1973)
Fünftes und letztes Album der besten Schweizer Rockband. Und wie schon bei "An Invisible World Revealed", ihrer letzten Arbeit für Liberty, ein Album ohne Grenzen und kommerzielle Kompromisse, dieses mal sogar als Doppelalbum. Die Spannbreite ist für Krautrockbands jener Zeit (wir wollen, weil es Schweizer sind, natürlich nicht von einer Deutschrockband sprechen!) sehr breit: zwischen 17-minütigen Bluesrockjams und kurzen Folksongs ist alles möglich. Neben den guten eigenen Songs gibt es sogar drei Coverversionen, ungewöhnlich sowohl für die Band, also auch für das ganze Genre damals: man musste ja immer "kreativ" und "eigenständig" sein. Da durfte man ja schließlich nicht covern. Auch nicht Elvis Presley ("That's Alright Mama", eigentlich ein Blues von Arthur Crudup), Bob Dylan ("Talking World War III Blues") und Kris Kristofferson ("Billy Dee"). Auf Anraten der Plattenfirma wurde diese Tatsache auf dem Cover auch etwas "verschleiert": nach dem Hinweis

"all titles written by Krokodil, published by Bellver, except..."

erfolgt für die oben genannten drei Lieder nur der Hinweis auf den jeweiligen Musikverlag. Es wird also nicht wirklich gelogen!
Aufgenommen wurde in Vierkanal-Quadrophonie, 1973 der letzte Schrei und heute im Zeitalter von Dolby-5-Punkt-Dingenskirchen längst vergessen, im damaligen "Hightec" Studio von Dieter Dierks, zur Unterstützung holte man sich den Keyboarder Veit Faiden, den Gitarristen Rainer Marz und auch Ex-Sänger/Geiger Hardy Hepp hinzu. Insgesamt eine schöne Rockplatte, die ich lange nicht mehr gehört habe!


(20.01.2005)
Mehr ...
Deke Leonard: "Iceberg" (United Artists, Juli 1973)
Der Ausstieg des Man-Gitarristen im letzten Jahr brachte 2 sehr schöne, aber nicht sonderlich erfolgreiche Soloalben. Er fehlte deshalb kurioserweise auf den beiden besten Man-Alben: "Be Good To Yourself, At Least Once A Day" von 1972 und dem im September 1973 erscheinenden "Back Into The Future"), was aber keine falschen Rückschlüsse bedeuten soll, denn diese beiden Soloalben sind durchaus gelungen. Es gab auch wohl keinen Krach untereinander, denn die alten Man-Kollegen sind alle mit dabei, genauso wie die Musiker von Help Yourself, mit denen er bei der Weihnachtsparty "Christmas At The Patti" spielte. Im nächsten Jahr brachte das Personalkarussell Deke dann wieder zurück zu seiner Stammband und er blieb diesmal dabei ...
Mehr ...
The Allman Brothers Band: "Brothers And Sisters" (Capricorn, Aug. 1973)
Slidegitarrengott Duane Allman und Bassist Berry Oakley waren beide im Harley-Himmel und obwohl man mit dem Ende der Band rechnete, hatten sie plötzlich mit Ramblin Man und dem Instrumentalsong Jessica (kennt wohl jeder von WDR2) ihre größten Hits. Man hatte Duane Allman bewusst nicht durch einen neuen Gitarristen ersetzt, sondern mit Chuck Leavell einen begnadeten Pianisten in die Band genommen, Sänger Greg Alman konzentrierte sich auf die Hammond und gelegentliche Ausflüge an die akustische Gitarre. Bei den Trommlern (2 wie bei den "seelenverwandten" Grateful Dead!) blieb alles beim alten, am Bass mit Lamar Williams natürlich ein neuer Mann. Der verbliebene Gitarrist Dickey Betts aber übernahm die vakante Führungsrolle und so geriet dieses vierte und erfolgreichste Album deutlich countrylastiger, ohne natürlich das Southern Feeling zu verlieren. Eines der klassischen Allman Studioalben und #1 in US-Charts.
"Ougenweide"(Polydor/Zebra, Aug. 1973)
Das Debütalbum, noch ohne Minne Graw, aber im Prinzip ist alles schon da, was diese Band ausmacht: historische Texte, teilweise in Alt- oder Mittelhochdeutsch, unterlegt mit (damals) zeitgemäßem Folk und Folkrock. Wichtigste Beteiligte waren damals nach meiner Einschätzung Sänger, Schlagzeuger und "Übersetzer" Olaf Casalich und Multiinstrumentalist Frank Wulff, der sich kompetent auf nahezu allem versucht, was Saiten oder in das man hineinblasen kann.
(17.07.2010)
Stevie Wonder: "Innervisions" (Tamla Motown, Aug. 1973)
Mehr ...
Tim Buckley: "Sefronia" (Discreet, Sept. 1973)
Das vorletzte Album. Und angeblich nicht mehr so toll. Mir gefällt es aber immer noch gut genug: besser ein schwächeres Album von Tim Buckley als ein gutes von so manch anderem "Künstler". Immerhin mit der Studioversion von "The Dolphins" von Fred Neil, das er ja live schon seit längerem im Programm hatte. Und "Martha" vom damals noch relativ unbekannten Songschreiber Tom Waits.
Kevin Coyne: "Marjory Razor Blade" (Virgin, Sept. 1973)
In der Grabbelkiste gefunden.


(28.01.2006)
Mehr ...
Grateful Dead: "Wake Of The Flood" (Grateful Dead, Sept. 1973)
Die erste Veröffentlichung auf dem bandeigenen Plattenlabel - eine wunderbare Platte (ich bin als verkappter "Deadhead" da aber wohl nicht besonders objektiv). Deshalb hier nur ein paar Fakten: die erste Platte nach dem Tod von Pigpen und auch die erste Studioproduktion mit dem neuen Keyboarder Keith Godchaux, der hier auch zum ersten und einzigen mal in seiner Deadzeit singt ("Let Me Sing Your Blues Away"). Ebenfalls neu dabei seine Frau Donna Jean Godchaux als Chorsängerin (sie tritt aber kaum in Erscheinung und war wegen ihrer Rolle in der Band auch immer ein Diskussionspunkt für Fans). Von Jerry Garcia gibt es mehrere gute Songs ("Half-Step Missisppi...", "Stella Blue" und "Row Jimmy"), nur die Single "Eyes Of The World" ist nach meiner Geschmack etwas schwächer. Von Bob Weir hören wir eine mehrteilige "Weather Report Suite", Bill Kreutzmann muss z. Z. ohne seinen Trommelpartner Mickey Hart auskommen, Phil Lesh ist am Bass wie immer genial, aber mal wieder ohne eigene Songs und Gesangsversuche. Ungewöhnlich ist die große Anzahl von Gastmusikern (Doug Sahm, Matt Kelly, Vassar Clements, Martin Fierro u.a.). Das Album wurde übrigens von der Band Jazz Is Dead komplett gecovert ("Laughing Water", Zebra 1999)!
Mehr ...
Ian Matthews: "Valley Hi" (Elektra, Sept. 1973)
Nach der kurzen ersten Plainsong-Episode zog es Ian nach Kalifornien. Dort nahm er unter der Produktionsaufsicht von Ex-Monkee Michael Nesmith diese Platte mit einer seiner besten Eigenkompositionen ("Keep On Sailing") auf. Seine größte Stärke lag aber in der Interpretation von Liedern anderer Autoren: "These Days" (Jackson Browne), "Seven Bridges Road" (Steve Young) und weitere Lieder von Richard Thompson, Randy Newman, Don Gibson und Michael Nesmith.
Man: "Back Into The Future" (United Artists, Sept. 1973)
Mehr ...

Dieses Doppelalbum ist eine der bekanntesten Man-Platten geblieben. Eine Platte live, die andere im Studio zeigten Micky Jones, Terry Williams, Phil Ryan, Will Youatt und den Neuzugang Tweke Lewis (Ex-Wild Turkey) auch künstlerisch klar im oberen grünen Bereich. Nur Deke Leonard war nicht dabei (er kehrte aber zum nächsten Album "Rhinos, Winos + Lunatics" von seinem erfolglosen Soloausflug "Iceberg" zurück). Von dieser Platte stammt der Konzertklassiker "C'mon".
Poco: "Crazy Eyes" (Epic, Sept. 1973)
Schönes Album der Band, die in ihrem Marktsegment "Countryrock" immer im Schatten der Eagles stand und zweimal den Bassisten abtreten musste. Sänger/Gitarrist Richey Furay war mal bei Buffalo Springfield und gründete zusammen mit Pedalsteeler Rusty Young und Drummer George Grantham die Band. Bassist Timothy B. Schmitt kam für den zu den Eagles abgewanderten Randy Meisner und löste ihn später auch dort wieder ab (Poco = Farmteam der Eagles?), Gitarrist Paul Cotton war für Jim Messina (zusammen mit Furay in der letzten Buffalo Springfield-Besetzung und später mit "Loggins & Messina" erfolgreich) dazu gestoßen. Erwähnenswert sind zwei schöne Coverversionen, die zu meinen absoluten Lieblingssongs gehören: "Brass Buttons" von Gram Parsons (dessen eigene Version erst im nächsten Jahr auf "Grievous Angel" posthum veröffentlicht wird) und das wunderschöne "Magnolia" von J.J.Cale.
Popol Vuh: "Seligpreisung" (Kosmische Musik, Sept. 1973)
Lou Reed: "Berlin" (RCA, Sept. 1973)
Das Album nach "Transfomer" - eine schwere Hypothek, da "Walk On The Wild Side" kaum zu toppen war. Trotzdem eine gute Scheibe.
Jesse Colin Young: "Song For Juli" (Warner, Sept. 1973)
Wenn ich einem Marsmenschen erklären müsste, was gute Laidback-Musik ist, würde ich ihm möglicherweise das zweite Soloalbum des ehemaligen Sängers der Youngbloods (kennt die überhaupt noch jemand?) vorspielen.
Neil Young: "Time Fades Away" (Reprise, Sept. 1973)
Nach der kommerziell erfolgreichen "Harvest" erschreckte Neil Young viele Fans mit den folgenden Platten. Auch ich konnte damals mit "Time Fades Away" nichts anfangen. Erst im Nachhinein wurde mir die Qualität dieses Albums klar. Die fast durchweg neuen Songs wurden alle live aufgenommen, was wohl auch für das damalige Publikum gewöhnungsbedürftig war, die natürlich lieber die "Hits" gehört hätten. Nur "Journey Through The Past", eine schöne Klavierballade, kannte der eine oder andere schon, der den merkwürdigen gleichnamigen "Spielfilm" von Neil Young gesehen oder den ebenso merkwürdigen Soundtrack gehört hatten. Gibt's immer noch nicht auf CD!
Nachtrag: Inzwischen sind das Meisterwerk "On The Beach", der Flickenteppich "American Stars 'N Bars" sowie die eher unwichtigen Alben "Reactor" und "Haws & Doves" als Silberlinge erschienen. Nur "Time Fades Away" und der krude Soundtrack "Journey Through The Past" fehlen auch weiterhin!
(August 2003)
Atlantis: "It's Getting Better" (Vertigo, Okt. 1973)
Kaum mehr als ein halbes Jahr ist vergangen seit dem Debütalbum "Atlantis" - und es geht tatsächlich noch besser! Inga Rumpf ist gesanglich in Topform und nicht nur auf dem Cover in Übergröße neben ihren Jungs. Aber auch die haben es natürlich drauf an ihren Instrumenten. Besonders schön gefallen mir die fast jazzigen Passagen auf dem Fender-Rhodes E-Piano von Monsieur Kravetz. Auch Dieter Bornschlegel, der Nachfolger von Frank Diez an der Gitarre (und bald darauf selber schon wieder weg vom Fenster...), macht seine Sache sehr gut.
Atlantis waren vielleicht sogar besser als ihre Vorgängerband Frumpy, bekamen aber leider nie die gleiche Anerkennung. Vielleicht weil sie ganz bewusst nicht versuchten "deutsch" zu klingen, also "krautrockig", sondern eher "international"? Das höchste Lob von Snobs war damals: "für eine deutsche Band ganz gut!". Auch ich muss zugeben, dass ich mich dieser Haltung nicht ganz entziehen konnte und kann aus der Distanz heraus jetzt klar sagen: tolle Band. Sie hätten richtig groß werden können.


(Dez. 2006)
Brinsley Schwarz: "Please Don't Ever Change" (United Artists, Okt. 1973)
Zwar nicht mein Lieblinxalbum der Pubrockband um den Sänger, Bassisten und Songschreiber Nick Lowe, aber eben trotzdem ein gutes Album ...
Jackson Browne: "For Everyman" (Asylum, Okt. 1973)
Jacksons zweiter Geniestreich, besser produziert als der Vorgänger, gute bis sehr gute Songs (z.B. "Take It Easy", die Kollaboration mit Eagle Glenn Frey oder "These Days", das Nico schon ein paar Jahre vorher mit Jackson aufnahm). In der Begleitband erstmalig sein langjähriger musikalischer Partner David Lindley.
Caravan: "For Girls Who Grew Plumb At Night" (Decca/Deram, Okt. 1973)
Die einzige englische Band aus der "Progrock"-Ecke neben Van Der Graaf Generator, für die ich mich wirklich erwärmen kann. Wahrscheinlich tut man der Band aus Canterbury mit diesem Etikett aber sowieso nur Unrecht.
Mehr ...
Genesis: "Selling England By The Pound" (Charisma, Okt. 1973)
Leute, bitte nicht wundern! Diese Platte hat wenig mit der furchtbaren Hitfabrik aus den 80ern und 90ern, mit und ohne Phil Collins, zu tun. Der trommelte damals zwar schon bei der Band (sogar ziemlich gut!), durfte auch bei einem Luied singen, Hauptsänger war aber Peter Gabriel, von dem ich zwar auch kein Fan bin, der aber immerhin kein Hitparadenfuzzi mit Seichtigkeiten im Programm ist. Man nennt so was heutzutage Progressive-Rock - und da kann ich eigentlich auch überhaupt nicht drauf: Trotzdem mag ich diese Platte, wenn vielleicht auch nur aus nostalgischen Gründen. Wie auch immer: inzwischen kann ich das zugeben, ohne mich zu genieren.
Mehr ...
John Martyn: "Inside Out" (Island, Okt. 1973)
Dieses schöne John Martyn-Album sollte allmählich mal neu auf CD veröffentlicht werden, denn meine alte Kassettenkopie gibt langsam aber sicher ihren Geist auf!
New Riders On The Purple Sage: "Panama Red" (Columbia, Okt. 1973)
Das "Hitalbum" der Band. Eigentlich war die Band ja nur als Testfeld für die Pedalsteel-Experimente von Jerry Garcia gedacht, doch dann kam das beim Publikum so gut an, dass mehr daraus wurde. Der viel beschäftigte Jerry wurde deshalb auch auf dem nächsten Album durch Buddy Cage ersetzt. Herausragend zwei Songs, die Peter Rowan für die Band schrieb: der Titelsong und "Lonesome L.A. Cowboy". Neben dem Sänger John Dawson taten sich jetzt auch den anderen Bandmitglieder (Gitarrist David Nelson, Drummer Spencer Dryden und vor allem Bassist Davd Torbert) als Songschreiber hervor.
Walter Wegmüller/Die Kosmischen Kuriere: "Tarot" (Ohr, Okt. 1973)
Lost & Found!
(03.08.2008)
Billy Cobham: "Spectrum" (Atlantic, Nov. 1973)
Das Solodebüt des angeblich besten Jazzrockdrummers aller Zeit - und deshalb eigentlich für mich erst Recht kein Grund, diese Platte zu mögen, weil Jazzrock ja nie so ganz mein Ding war und ist. Aber dieser Platte (die schon seit Mitte der 70er besitze!), ist einfach klasse, daran führt kein Weg vorbei. Das liegt zum einen an den guten Komposition (eine Nummer wurde später sogar von Massive Attack zum Hit verarbeitet!) und der Produktion von Mr. Cobham (während sein virtuoses Schlagzeugspiel oft einen Tacken übertrieben ist), zum anderen aus der tollen Band, die eben Jazz UND Rock drauf hatte: Jan Hammer aus alten Mahavishnu-Orchestra-Tagen an E-Piano und Synthesizer, L.A.-Studiobassist Lee Sklar, der Mann mit dem ZZ-Top-Rauschebart, den man damals eher von Jackson Browne- und James Taylor-Platten und heute von Phil Collins-Konzerten kennt, dazu der damals gerade mal 22jährige Gitarrist Tommy Bolin, der wenig später Richie Blackmore bei Deep Purple ersetzte (auf "Come And Taste The Band" von 1975) und ein Jahr danach den frühen Drogentod starb.
Mehr ...
Elliot Murphy: "Aquashow" (Polydor, Nov. 1973)
Das Debüt eines der unterbewertetsten Singer/Songwriter aus den USA. Er hatte damals wie viele seiner Kollegen (z.B. Loudon Wainwright III) den Stress, der neue "Bob Dylan" sein zu müssen. Was er natürlich nicht war. Seine wahren Fans hat er inzwischen in Europa gefunden, wo er nun schon lange lebt und regelmäßig schöne, aber kommerziell unbedeutende Alben herausbringt.
Mehr ...
Nektar: "Remember The Future" (Bellaphon/Bacillus, Nov. 1973)
Diese Platte hatte ich lange vergessen und erst kürzlich wieder entdeckt. Vier in Hamburg ansässige Engländer zeigten mit den beiden ganzseitigen Teilen der Suite "Remember The Future" (solch überlange Songmonster galten damals als sehr stilvoll!) ihren bekannteren Kollegen von Pink Floyd und Yes, wo der Hammer hängt. In Deutschland waren sie damit die kleinen Könige und konnten in England und den USA zumindest einen Achtungserfolg erzielen. Bei allen berechtigten Berührungsängsten gegenüber dem, was man heute "Progrock" nennt, ist das hier aber trotzdem eine schöne Platte, mit in der großen Suite versteckten wunderschönen kleinen Popsongs!
Mehr ...
Bonnie Raitt: "Takin My Time" (Warner, Nov. 1973)
Mehr ...
Santana: "Welcome" (Columbia, Nov. 1973)
Das jazzigste Album der Band hatte damals viele "normale" Fans eher überfordert, dabei ist es doch eine wunderschöne Platte. Fest dabei als Sänger und Jodler (!) ist Leon Thomas, der schon auf dem Meisterwerk "Karma" von Saxophonist Pharoah Sanders seine Stimme erhoben hatte. Weitere Gäste aus der Jazzecke: John McLaughlin, Airto Moreira, Flora Purim und Herbie Mann. Da verwundert es vielleicht auch nicht mehr, dass das Titelstück von John Coltrane stammt.
Ringo Starr: "Ringo" (Apple, Nov. 1973)
Mehr ...

In der Grabbelkiste gefunden!


(07.07.2009)
Embryo: "We Keep On" (BASF, Dez. 1973)
Jetzt nicht wundern, aber in den frühen 70ern hat sich auch dieser Chemiegigant aus Ludwigshafen mal für ein paar Jahre als Plattenfirma versucht! Vielleicht um den eigenen Vinylabsatz zu erhöhen? Oder weil man sich sagte: "Wir können Vinyl machen, also sind wir ja auch eine Plattenfirma!"? Keine Ahnung - ist ja auch egal. Auf jeden Fall gab es damals zum Teil recht obskures Zeug aus Ludwigshafen: ich erinnere mich an das inzwischen ultra rare, aber nicht unbedingt gelungene Debütalbum von Conny Veits Band Gila, außerdem hatte man das Stuttgarter Jazzlabel MPS von Joachim-Ernst Behrend im Vertrieb. Aber ich schweife ab! Auch die deutschen "Ethno-Jazz-Rocker" Embryo haben dort mal veröffentlicht. Zwar hab ich "We Keep On" damals nicht gehört (ich besaß nur 2 Billig-Kompilationen vom Brain-Label), aber es jetzt als CD-Wiederveröffentlichung von einem Plattenlabel aus Andorra (!) neu für mich entdeckt.
Wie bei einer "richtigen Jazzplatte" sollte man hier Aufnahmezeitpunkt (Dez. 1972) und Besetzung erwähnen: neben Bandgründer und einzigem Dauermitglied Christian Burchard (Schlagzeug, Vibraphon) sind das Langzeitgitarrist Roman Bunka, Keyboarder Dieter Miekautsch und der damals in Deutschland beheimatete Saxofonist Charlie Mariano. Da alle damaligen Embryoplatten eine hohe musikalische Qualität hatten, ist der "internationale Durchbruch" , den die Band angeblich mit diesem Album schaffte, sicherlich auf dieses prominente (Teilzeit-)Bandmitglied zurückzuführen. Guter Hippie-Kiffer-Jazzrock!


(24.06.2004)
Mehr ...
Gong: "Angels Egg" (Virgin, Dez. 1973)
Teil 2 von "The Radio Gnome Invisible Trilogy".
Mehr ...
Gary Burton & Chick Corea: "Crystal Silence" (ECM, 1973)
Mehr ...

Die Platte klingt so, wie sie heißt: wunderbare Piano-Vibraphon-Duette von zwei Meistern.
Commander Cody & His Lost Planet Airmen: "Country Casanova" (MCA/Paramount, 1973)
Auch auf ihrem dritten Album brachte diese achtköpfige Hippietruppe wieder ihre ungewöhnliche Mischung aus Swing, Country und Rock'n'Roll. Wie immer gab es ein tolles Cover!
Country Gazette: "Don't Give Up Your Day Job" (United Artists, 1973)
Ein Wühltischentdeckung! Dieses Quartett, entstanden aus den Resten von "Dillard & Clark", stand für hochkarätigen Bluegrass kalifornischer Prägung, also durchaus mit offenen Ohren für Rock und Pop, was sich auch in der Songauswahl widerspiegelt: Lieder von Stephen Stills, Don McLean, Elton John (der schrieb damals tatsächlich schöne Lieder!), aber eben auch vom Meister Bill Monroe. Bekanntestes Bandmitglied dürfte der Geiger Byron Berline gewesen sein, neben Banjospieler Alan Munde, Bassist Roger Bush und Gitarrist Kenny Wertz.
Dobie Gray: "Drift Away" (MCA, 1973)
Schlimm genug, dass man das extra erwähnen muss: es gibt schwarze Sänger, die sich sehr kompetent an Countrymusik (i.w.S.) versuchen. Neben Ray Charles und Charlie Pride muss da unbedingt der Texaner Dobie Gray genannt werden, der mit dem Titelsong, komponiert von seinem Produzenten Mentor Williams, einen Welthit landet, der viel gecovert wurde, u. a. von Humble Pie und - so weit ich weiß - auch von den Rolling Stones. Irgendwo habe ich auch mal gelesen, dass mit "Drift Away" eine der ersten "Americana"-Platten aufgenommen wurde. Ob man diese Album jetzt tatsächlich so hoch hängen muss, bleibt mal dahingestellt - Außerdem scheinen die Unterschiede zwischen Country und Soul im Süden der USA dann doch nicht so gross zu sein, wenn man etwa an solche Sänger und Songschreiber wie Tony Joe White, Eddie Hinton und Donnie Fritts denkt (von dem hier die wunderbare Ballade "We Had It All" gecovert wird).
Begleitet wird Dobie Gray von der Créme de la Créme der Nashville-Musikszene: David Briggs (keyb), Mike Leech (bg), Reggie Young (g), Troy Seals (g), Kenny Buttrey (dr) und Weldon Myrick (pedal steel). Es ist wohl kaum überraschend , dass Briggs, Malone und Young auch bei Ton Joe Whites aktuellem Album zu hören sind!


(11.04.2006)
Mehr ...
Gryphon (Transatlantic, 1973)
Gryphon waren eine sehr obskure Gruppe. Auf ihrer ersten Veröffentlichung spielten sie in der Besetzung Richard Harvey (Blockflöte, Keyboards), Brian Gulland (Fagott), Graeme Taylor (Gitarre) und David Oberle (Perkussion) eine sehr von Klassik (bzw. Barock) und Folk geprägte, aber eigenständige (meist) instrumentale Musik, in der vor allem der virtuose Blockflötenspieler herausragte. Es sollten bis 1977 noch 4 weitere Alben folgen, in der sich die Musik hin zu so etwas wie "Progrock" entwickelte.
Mehr ...
Claire Hamill: "October" (Island, 1973)
Bei den Aufnahmen zu ihrem zweiten und letzten Album für Islands war Claire Hamill gerade erst 18 geworden. Paul Samwell-Smith (Ex-Yardbirds-Bassist und Cat Stevens-Erfolgsproduzent) sorgte für einen Folksound, der etwas kompakter daherkommt als auf dem Debüt "One House Left Standing" von 1971. Nur der Bluesrocker "You Got Me Running" von Jimmy Reed will für mich hier irgendwie nicht hineinpassen. Nach Ende iher erstenSolo-Karriere, Ende der 70er, Anfang der 80er, soll Claire mal bei Wishbone Ash mitgewirkt haben. Danach wechselte sie in New-Age-Fach.


(22.04.2010)
Mehr ...
Heads Hands & Feet: "Old Soldiers Never Die" (Atco, 1973)
Der Schwanengesang einer der besten britischen Bands der frühen 70er. Das wollte damals kaum jemand hören. Sänger Tony Colton konzentrierte sich fortan wieder auf seine Tätigkeit als Produzent (er hat auch alle drei HHF-Alben vorzüglich in Szene gesetzt!), Bassist Chas Hodges wechselte zum Klavier und wurde eine englische Pubrock-Semi-Legende im Duo Chas & Dave (mit Dave Peacock). Nur den Leadgitarristen, Keyboarder und zweiten Leadsänger Albert Lee wird der eine oder andere von Euch durch sein späteres Mitwirken u.a. bei Emmylou Harris, Eric Clapton, u.v.a., sowie durch gelegentliche Soloalben kennen.


(31.12.2007)
Garland Jeffreys (Atlantic, 1973)
Das völlig unbekannte und titellose Debütalbum des New Yorker Singer/Songwriters, der in seiner Heimat weitestgehend unbekannt, in Europa zumindest einem kleineren Publikum bekannt ist: da gab's mal mit "Matador" einen kleineren Hit und ein paar Fernsehauftritte, woher ich den Mann dann ja auch kannte. 1973 gab's aber noch keinen "Matador" und dieser erste Versuch, Singer/Songwriter-Musik mit Reggae zu mischen, war kommerziell gesehen ein Fehlgriff. Dabei hatte Atlantic sogar die Produzentenlegende Michael Cuscuna und die besten Studiocracks der Stadt finanziert (u. a. Saitenzauberer David Bromberg, Dr. John, Jazzbassist Richard Davis, Vibraphonist Mike Manieri, Saxofonist David "Fathead" Newman, den Gospelchor The Persuasion, Bassist Chuck Rainey und Drummer Bernard Purdie), ließ ihn danach aber wieder fallen. Nach meinem Wissensstand gibt es die Platte auch immer noch nicht auf CD, sodass ich mir jetzt erstmal eine CDR von meiner alten und schon ein wenig zerkratzten Vinylplatte gemacht habe, die ich mal Ende der 70er/Anfang der 80er für lächerliche 3,30 DM aus einer Grabbelkiste gezogen habe. Erst jetzt weiß ich die Qualität dieser Aufnahmen richtig zu schätzen!


(18.02.2006)
Antonio Carlos Jobim: "Jobim" (Verve, 1973)
Warnung: die Platte ist mit einem Orchester aufgenommen! Sehr viele Geigen. Also nix für harte Rock'n'Roller. Eher für Freunde schöner Melodien. Und die gibt's bei Tom Jobim, einem der besten Songschreiber populärer Musik, den es je gab (no kidding!), natürlich én masse!
Lava: "Tears Are Goin' Home" (Brain, 1973 )
Lost & Found!
(15.07.2008)
Mehr ...
Marshall Tucker Band (Capricorn, 1973)
Lost And Found!


(23.11.2003)
Maria Muldaur (Reprise, 1973)
From the sweet to the salacious to the poignant, this strong debut features savvy studio vets, talented guests, strong tunes, and Muldaur's lissome pipes. The outstanding players include Ry Cooder, David Grisman, Clarence White and Mac Rebennack, better known as Dr. John. A tasteful guitar solo by the underrated Amos Garrett elevates the charming surprise hit single "Midnight at the Oasis." Although she later gravitated to jazz and gospel, Muldaur's first outing is heavy on songs derived from country and blues. A rousing "Work Song" borrowed from Kate and Anna McGarrigle is only one of several highlights. ~ Mark Allan, All Music Guide
An dieser Platte liebe ich das, was ich auch an vielen Emmylou Harris- und Linda Ronstadt-Alben so schätze: Klasse Songs (durchweg Fremdmaterial, meist unbekannt, sodass man neue und unbekannte alte Songschreiber entdecken kann) und virtuose aber sehr relaxte Begleitmusiker, die immer songdienlich spielen.
John Prine: "Sweet Revenge" (Atlantic, 1973)
Bereits das dritte tolle Album des Mannes, der uns allen den "Angel From Montgomery" brachte. Wie immer dabei als Gitarrist Steve Goodman, selber ein vorzüglicher Songschreiber ("City Of New Orleans"), dieses mal unterstützt von der vorzüglichen Nashville-Mafia (Reggie Young, David Briggs, Kenny Malone, Grady Martin, u.a.) , als Produzent wie immer dabei Atlantic-Legende Arif Mardin.
Willie Nelson: "Shotgun Willie" (Atlantic, 1973)
Das erste Album, mit dem sich Nelson nach seiner Rückkehr nach Texas als sog. "Outlaw" einen Namen machen konnte, allerdings nur ein kurzes Zwischenspiel beim Atlantic-Label, wohl nicht der ideale Ort für Countrymusik, sei sie auch noch so sehr "outlaw", bevor er dann bei Columbia mit "Red Headed Stranger" voll durchstartete.
U.a. mit "She's Not For You" und "Whiskey River".
Danny O'Keefe: "Breezy Stories" (Atlantic, 1973)
Ein schreckliches Cover, aber eines der besten Alben eines der unterbewertetsten amerikanischen Singer/Songwriter. Dieses mal wurde in New York mit absoluten Topmusikern aufgenommen: u.a. Dr. John und Donny Hathaway am Piano, den Gitarristen Hugh McCracken und David Bromberg, den Schlagzeugern Bernard Purdie und Steve Mosley, den Bassisten Richard Davis, Kenny Edwards und Hugh McDonald, Perkussionist Airto Moreira, den Bluegrassspezialisten Kenny Kosek (Fiedel) und Andy Statman (Mandoline). Produziert wie beim Vorgängeralbum "O'Keefe" vom legendären Arif Mardin. Trotzdem liess sich der Erfolg von "Good Time Charlie Got The Blues" nicht wiederholen.
Oregon: "Distant Hills" (Vanguard, 1973)
Oregon, die auch heute noch aktiv sind, spielen eine unvergleichliche Musik. Hier finden Jazz, E-Musik, Weltmusik und was weiß ich noch alles (Europa, Indien, USA) zu etwas Neuem zusammen. Man kann sich dieser Musik am ehesten mit der Vorstellung der 4 absolut gleichberechtigten Musiker mit ihrem jeweiligen Instrumenten nähern. Gleicher unter gleichen ist vielleicht Ralph Towner (Ak. Gitarre, Piano, Trompete). Collin Walcott spielt Perkussion und indische Instrumente (Sitar, Tablas). Glenn Moore bedient den Kontrabass (und gelegentlich Piano und Flöte). Paul McCandless spielt Oboe und Bassklarinette.
Saunders, Garcia, Kahn, Vitt: "Live At Keystone" (Fantasy, 1973)
Jerry Garcia spielte neben den Grateful Dead auch immer in anderen Bands: Bei den "New Riders Of The Purple Sage" gab's Countryrock, bei "Old And In The Way" war es Bluegrass. Mit der Organisten Merl Saunders spielte er Jazzstandards, Blues und Dylan-Songs. Mit dabei war damals bereits John Kahn, später ständiger Bassist in der "Jerry Garcia Band". Wir hören relaxte, manchmal etwas lang geratene Improvisationen von Orgel und Gitarre über traditionellem Songmaterial.
Judee Sill: "Heart Food" (Asylum, 1973 )
Auch Judees zweites Album ist voll brillanter Musik. Eine Schande, dass die damals kaum jemand gehört hat!!! Für mich ist Judee Sill ganz klar die Entdeckung des Jahres, auch wenn sie schon lange nicht mehr unter uns weilt...


(23.02.2006)
Mehr ...
Shel Silverstein: "Freakin' At The Freakes Ball" (Columbia, 1973)
Mehr ...

Lost and Found!
Staple Singers: "Be What You Are" (Stax, 1973)
Viele kennen die Gruppe wahrscheinlich nur von ihrer Beteiligung beim "Last Waltz", dem Abschiedskonzert von The Band. Dieses Frühsiebzigeralbum hat einen schönen Sound (viel E-Piano!) und ist halt eines der wenigen, das ich von Pops Staples und seinen drei Töchtern kenne. Mavis Staples singt wie immer überirdisch gut.
String Driven Thing: "The Machine That Cried" (Charisma, 1973)
Diese "Saitengetriebene Angelegenheit" ist sicherlich nur eine (eher unbedeutende) Fußnote in der Rockhistorie. Seit dem titellosen Vorgängeralbum wurde der Folkrock der Geschwister (?) Chris Adams (Gesang, Gitarre, Songwriting) und Pauline Adams (Engelsstimme), dem Bassisten Colin Wilson und dem Geiger Graeme Smith um einen Trommler erweitert. Die Platte habe ich übrigenz ca. 1975 auf einem Flohmarkt in London erstanden, aber jahrelang nicht mehr gehört. Kürzlich gab's dann die Reissue-CD bei Zweitausendeins in der Grabbelkiste, sodass es mir nicht schwer fiel, erneut zuzuschlagen! Ergebnis: ein paar sehr schöne Songs von Chris Adams, treibende Rhythmen - und diese manchmal etwas nervige Geige von Mr. Smith, den ich dann später mal mit Van Der Graaf live an der Essener PH gesehen habe (Hawkwind und Van der Graaf im Doppelpack!). Auch da hatte er nicht gerade "zurückhaltend" seine Geige bedient. Der Mann ist, soweit ich das beurteilen kann, ein echter Könner auf seinem Instrument, weiß aber scheinbar nicht immer, wann genug ist. Genau das, was mich auch an vielen Jazzrockgitarrenalben nervt. Trotzdem eine gute Platte.
Mehr ...
Sweet Smoke: "Darkness To Light" (EMI/Harvest 1973)
Sweet Smoke waren 5 amerikanische Hippies, die in den frühen 70ern ganz in meiner Nähe in Emmerich (!) gelebt und sogar beim legendären Harvest-Label von Mutter EMI ein paar Platten herausgebracht haben. Das Debütalbum "Just A Poke", aufgenommen im September 1970, bestand aus zwei ganzseitigen Jams (jeweils über 16 Minuten) und durfte damals in keinem guten Kifferhaushalt fehlen - und auch wir haben diese Platte damals viel gehört.
Das zweite Album "Darkness To Light" vom Herbst 1972 war damals an mir vorbeigegangen und gibt es zusammen mit "Just A Poke" auf einer CD. Es hat deutlich kürzere Stücke (zwischen 4 und 13 Minuten), klingt weniger nach Grateful Dead und mehr nach Folk und Indien.


(23.05.2010)
McCoy Tyner: "Enlightenment" (Milestone, 1973)
Tyner kennen viele nur als den Begleiter von John Coltrane. Für mich ist er aber einer der besten Jazzpianisten überhaupt. Unglaublich, welche Kraft und gleichzeitig Feinheit der Mann in sein Spiel legt! Während sich seine Kollegen Hancock und Corea in den Spät60ern/Früh70ern vermehrt um Elektrifizierung kümmerten, blieb Tyner beim Konzertflügel, ohne dabei irgendwie altmodisch zu klingen.
"Enlightenment" ist zwar "nur" ein Livedoppelalbum vom piekfeinen Montreux-Jazzfestival, aber es enthält keine netten Standards, sondern eine extra komponierte "Enlightenment Suite". Die Begleitband ist vorzüglich: der damals knapp 20jährige Saxofonist Azar Lawrence in bester Coltrane-Manier, am Bass Joony Booth (kenn ich nicht weiter) und am Schlagwerk der "Jazzrockfusionstar" Alphonse Mouzon. Starkes Teil!
Mehr ...
Marcos Valle: "Previsao Do Tempo" (Odeon, 1973)
Lost & Found! Brazil!


(03.03.2013)
Mehr ...
Velvet Underground: "Squeeze" (Polydor, 1973)
Vor einiger Zeit konnte ich eine digitale Kopie dieses extrem obskuren und raren Albums auftreiben, das gerne in fast allen Geschichten über Velvet Undergriound vergessen wird. Im Grund ist das auch keine wirkliches Velvet Underground-Album, sondern eher eine nette Folkrock-Soloplatte von Doug Yule, begleitet nur von - bitte nicht lachen - Ian Paice - von Deep Purple am Schlagzeug!
Wenn man also mal Alles im Zusammenhang mit VU aussen vor lässt - ist das eine kleine, nette, wenn auch sicherlich unwichtige Platte aus den frühen 70ern, der im Grunde viel Unrecht angetan wurde!
Mehr ...
Tony Joe White: "Homemade Ice Cream" (Warner, 1973)
Viele kennen den Mann nur von seinem Hit aus den 60ern "A Rainy Night In Georgia", den wohl so gut wie jeder Crooner schon aufgenommen hat, oder von seiner Zusammenarbeit als Autor und Gitarrist mit Tina Turner in den 80ern: da trägt z.B. das Lied "Steamin' Windows" sicherlich zu seiner Alterssicherung bei. In den frühen 70ern hat er für Warner drei wunderbar relaxte Alben aufgenommen: "Tony Joe White." (1971) mit Produzent Peter Asher (Ex-Peter & Gordon, erfolgreich mit James Taylor und Linda Ronstadt), "The Train I'm On" (1972) mit den Atlantic-Legenden Jerry Wexler und Tom Dowd an den Reglern und eben "Home Made Icecream" (1973), produziert von White selbst zusammen mit Tom Dowd. Die Begleitband war zu dieser Zeit das Maß aller Dinge in den Studios von Memphis und Nashville: Norbert Putnam am Bass, David Briggs an Hammond-B3 und diesem fantastisch klingenden E-Piano, Reggie Young an der Gitarre und Kenny Malone am Schlagzeug. Nicht zu unterschätzen ist natürlich Whites eigenes Spiel auf der Gitarre (da hat er ganz klar seinen eigenen Ton!) und an der Mundharmonika. Das Coverfoto mit tierischem Backenbart (steht ihm besser als den deutschen Fußballern bei der WM 74!) und dem lässig geknoteten Jeanshemd erinnert mich aber auch ein wenig an die Sex- und sonstigen Trashfilme aus dieser Zeit, die lange Zeit dauernd nachts bei den Privaten liefen. Da kann Tony Joe natürlich garnix für.
David Wiffen: "Coast To Coast Fever" (United Artists, 1973)
Ein völlig unbekannt gebliebener Singer/Songwriter, für den ich mich kürzlich zu interessieren begann, weil wir sein bekanntestes Lied "Lost My Driving Wheel" jetzt bei W4L im Repertoire haben, das schon von vielen Künstlern gecovert wurde: The Byrds (auf dem Album "Farther Along" von 1971), Roger McGuinn (solo), Tom Rush, Cowboy Junkies und Ray Wylie Hubbard (auf dem neuen Album "Delirium Tremolo" von 2005). Leider stammt das Lied von seinem anderen Album von 1971, das ich aber leider bisher nirgendwo auftreiben konnte. Wird sicherlich noch ein hartes Stück Arbeit. Ach ja: "Coast To Coast Fever" ist zwar ohne jenes Lied, aber trotzdem eine wunderschöne, folkige Singer/Songwriter-Perle. Stimmlich erinnert der in England geborene und in Kanada beheimatete Davd Wiffen ein wenig an jenen Tom Rush und an David Blue. So was mag ich im Moment sehr. Produzent der Platte war Bruce Cockburn, der in den 60ern mit Wiffen zusammen in einer Band gewesen sein soll.
(26.03.2006)
Das Suchen nach dem Debütalbum "David Wiffen" hat dann doch nicht solange gedauert ...
(06.05.2006)
Larry Young: "Lawrence Of Newark" (Perception, 1973)
Larry Young war einer der besten Orgelspieler des Jazz. Nachzuhören auf diesem eher unbekannten Album aus den 70ern, das unter der Mitwirkung des Gitarristen James 'Blood" Ulmer entstand. Bekannt wurde er neben seinem Blue Note-Meisterwerk "Unity" besonders durch die Mitwirkung in der ersten Besetzung von Tony Wiliams Lifetime, sowie auf dem Album "Love Devotion Surrender" von Carlos Santana und John McLaughlin.


(27.06.2009)
Mehr ...
Townes van Zandt: "The Late Great Townes van Zandt" (Tomato, 1973)
Das letzte Studioalbum vor der langen Pause bis 1978 enthält zwei der bekanntesten Songs von TVZ: "Poncho & Lefty" (1977 von Emmylou Harris veredelt und 1982 im Duett von Willie Nelson und Merle Haggard zu Hit-Ehren gekommen) und "If I Needed You" (1981 von Emmylou und 1998 von Lyle Lovett aufgenommen). Dazu kommen das wunderschöne "No Lonesome Tune", die Coverversion von Guy Clarks "Don't Let The Sunshine Fool You" und "Heavenly Houseboat Blues", die Zusammenarbeit mit dessen Frau Suzanna Clark.