Johnny Cash: "Ride This Train" (Columbia, März 1960)
Ein frühes Cash-Album, auf das ich aber neulich erst gestossen bin. Alle Lieder haben was mit Zügen zu tun. Sozusagen ein "Konzeptalbum", obwohl es so was damals wohl noch nicht gab. Enthält keinen der üblichen Cash-Klassiker, die man schon von ...zig Zusammenstellungen kennt. Und das ist gut so.
Miles Davis: "Sketches Of Spain" (Columbia, April 1960)
Obwohl ich wie viele andere im Musikunterricht mit diesem Klassiker der orchestralen Jazz gequält wurde, muss ich zugeben, dass diese Zusammenarbeit von Miles Davis und dem Dirigenten und Arrangeur Gil Evans ein Meisterwerk ist. Mein Verständnis für Orchestermusik zu entwickeln hat eben ein bisschen länger gedauert.
Tina Brooks: "True Blue" (Blue note, 1960)
Tina Brooks ist Blue Note-Tenorsaxofonist nie so bekannt geworden wie Sonny Rollins, John Coltrane, Joe Henderson, Wayne Shorter oder Hank Mobley. Deshalb ist wohl auch vielen diese schöne Hardbop-Session mit Freddie Hubbard (tp), Duke Jordan (p), Sam Jones (b) und Art Taylor (dr) entgangen. Sommermusik.
John Coltrane: "Giant Steps" (Atlantic, 1960)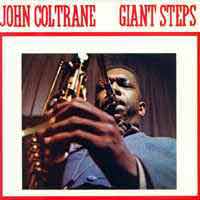 Im Quartett mit

Paul Chambers

(Bass), Tommy Flanagan (Piano) und Art Taylor (Schlagzeug) eingespielter und von Atlantic-Legende Tom Dowd produzierter Klassiker des Modernjazz. Viele der Coltrane-Kompositionen sind schon lange Bestandteil des Jazz-Standardrepertoires, z.B. der Titelsong und "Naima".
Mehr ...
Hank Mobley: "Soul Station" (Blue Note, 1960)
Hank Mobley hat als Tenorsaxofonist zwar nie den Bekanntheitsgrad von John Coltrane oder Sonny Rollins erreicht und war sicherlich nicht so "innovativ" wie Coltrane, hat aber nichtsdestotrotz ein paar ausgezeichnete Alben aufgenommen. Dieses "typische Blue Note-Album" gilt zu recht als eines seiner besten. Mit dem unvergleichlichen Art Blakey am Schlagzeug, sowie Wynton Kelly am Piano und Paul Chambers am Kontrabass, beide Mitglieder vom Miles Davis Quintet und auch auf dessen legendärem Album "Kind Of Blue" dabei.