Das Album des Jahres
Television: "Marquee Moon" (Elektra, März 1977)
Ein grandioses Debüt! Mit dieser Band gab es nach Ansicht vieler Leute endlich wieder Hoffnung für den Rock'n'Roll. Tom Verlaine, ein Kumpel von Patti Smith, schrieb geniale Songs und lieferte sich mit Richard Lloyd irrsinnige und ungewöhnliche Gitarrenduelle, wobei der Begriff "Duell" eigentlich nicht passt, da die beiden nicht kämpfen oder wett streiten, sondern ganz bizarr zusammenarbeiten: hört es euch an - ich kann's nicht besser erklären. Am Bass übrigens Fred Smith, aber nicht der ehemalige MC5-Gitarrist Fred "Sonic" Smith, sondern der ehemalige Blondie-Bassist gleichen Namens! Da Tom Verlaine auf der ersten Patti Smith-Platte "Horses" als Gitarrist und Co-Autor mitwirkt und Patti Smith später Fred "Sonic" Smith geheiratet hat, bin auch ich lange davon ausgegangen, dass dieser auch der Television-Bassist war. War er aber nicht. Das steht sogar falsch in meiner Platten-Bibel "The Great Rock Discography" von M.C. Strong!
Mehr ...
weitere Highlights ...
Garland Jeffreys: "Ghostwriter" (A&M, Jan. 1977)
Denkt man an Singer/Songwriter aus New York, so fällt einem sicherlich schnell Lou Reed ein. Nicht ganz so bekannt, aber genauso mit der Stadt verwurzelt ist Garland Jeffreys. "Ghostwriter" gilt als sein bestes Album und enthält mit "Wild In The Streets" seinen ersten Hit und mit "Cool Down Boy" ein klasse Duett mit James Taylor. Begleitet wird er von den besten Musikern der Stadt, u.a.: Dr. John (p), Steve Gadd (dr), Don Grolnick (keyb), David Spinozza (g), Anthony Jackson (bg), Mike Brecker (sax), Randy Brecker (tp) und Hugh McCracken (g).
Emmylou Harris: "Luxury Liner" (Warner, Jan. 1977)
Auch auf ihrem vierten Album gibt es wieder Lieder von

Gram Parsons

(der Titelsong und "She", letzteres eines meiner Lieblingslieder von GP). Mit Emmylous Version von "Pancho & Lefty" wird endlich auch

Townes van Zandt

einem größeren Publkum bekannt. Ob das der Grund war, dass er im folgenden Jahr endlich wieder nach mehrjähriger Pause ein Album aufnehmen konnte, weiss ich allerdings nicht. Mit starkem Albert Lee in der Hot Band.
Mehr ...
Fleetwood Mac: "Rumours" (Warner, Feb. 1977)
"Rumours" ist eines der meistverkauften Rockalben aller Zeiten. Das ist normalerweise kein Grund für mich, es zu einem meiner Favoriten zu erklären (eher das Gegenteil!). Ich muss aber klar sagen: eine wirklich tolle Platte mit tollen Songs. Eine der seltenen Momente, bei dem ich nicht mit dem Massengeschmack auf dem Kriegspfad bin (mir fällt da höchstens noch "Crime Of The Century" ein!)
Mehr ...
Roy Harper: "Bullinamingvase " (EMI/Harvest, Feb. 1977)
Angeblich nicht sein bestes Album, aber das, was ich als erstes von ihm gehört habe - und mir auch weiterhin am besten gefällt. Was? Ihr kennt den Mann nicht? Ein so genannter "Musician's Musician". Led Zeppelin haben ihm das Lied "Hats Off To Harper" gewidmet (auf "Led Zeppelin III"), auf Pink Floyds Album "Wish You Were Here" sang er höchstpersönlich "Have A Cigar". Meine amerikanische Pressung hat übrigenz den Titel "One Of Those Days In England", benannt nach dem über 20minütigen Lied von Seite 2.
Tolle Gitarrenarbeit von Henry McCullough (Grease Band, Wings) und Andy Roberts (Plainsong, Ian Matthews). Weitere illustre Gäste: Paulchen McCartney samt Linda, Ronnie Lane (Faces) und Alvin Lee (Ten Years After). Aber keine Angst: die Musik klingt vollkommen nach Roy Harper und nicht wie eine Schnittmenge der beteiligten Prominenz.
Mehr ...
Muddy Waters: "Hard Again" (Blue Sky, Feb. 1977)
Muddy's Comeback, von Johnny Winter produziert und mit James Cotton an der Mundharmonika. Muddy schaut sehr stolz und zufrieden vom Cover: er konnte es auch sein. Heiß!
Gene Clark: "Two Sides To Every Story" (RSO, März 1977)
Soviel Platten wie Fleetwood Mac hat Gene Clark leider nie verkaufen können. Sein kleiner Eckplatz in der Rock'n'Roll-Ruhmeshalle begründet sich auf seinem Mitwirken in der Frühphase der Byrds. Seine Soloalben haben sich dagegen alle nur sehr mäßig verkauft. Nach dem Meisterwerk (zumindest in meinen Ohren) "No Other" von 1974 flog er bei Elektra/Asylum schnell wieder raus. Bei "Two Sides To Every Story" wurde dann zum letzten Mal von einer großen Plattenfirma in ihn investiert und es entstand diese eigentlich recht gelungene Countryrockplatte, was aber kommerziell mal wieder nichts gebracht hat. Danach gab's alle paar Jahre noch mal ein Independent-Alben, die aber an den schlechten Produktionsbedingungen leiden (z.B. "Fire Byrd" von 1984).
Van Morrison: "A Period Of Transition" (Warner, März 1977)
Drei Jahre nach "Veedon Fleece" ging Van Morrison mit Dr. John und einigen R&B-Musikern ins Studio und es entstand "Period Of Transition". Nach meinem Wissensstand ist das das einzige Mal, dass er sich eine solch lange Pause gegönnt hat! Man muss sich das mal vorstellen: seit 1968 ("Astral Weeks") kommt fast jedes Jahr von ihm eine neue Platte heraus, von denen keine einzige schlecht ist (das ist für Künstler aus dieser Generation durchaus nicht normal!). Viele Kritiker mögen dieses Album nicht, vielleicht weil es weniger stark nach klassischem "Van Morrison", sondern eher nach New Orleans klingt (das liegt natürlich am Produzenten Dr. John) - mir gefällt's auf jeden Fall.
Weather Report: "Heavy Weather" (Columbia, März 1977)
Das Meisterwerk von Josef Zawinul (keyb) und Wayne Shorter (sax) und ihrem neuen Mann am Bass, Jaco Pastorius: alleine schon wegen "Birdland", einem der besten Jazzstücke aller Zeiten!
Mehr ...
Jesse Colin Young: "Love On The Wing" (Warner, März 1977)
Seine letzte Platte für Warner war auch seine letzte richtig gute. Ich habe "Love On The Wing" aus der langen Liste guter Warner-Alben wegen des wunderschönen Covers ausgewählt. Produziert von Felix Papalardi, mit dem er auch schon mal bei den Youngbloods zusammengearbeitet hatte.
Mehr ...
Bonnie Raitt: "Sweet Forgiveness" (Warner, April 1977)
Eines der eher unbekannten, aber doch sehr schönen Alben von Mrs. Raitt aus den 70ern - und so weit ich weiß ihr erster (relativer) kommerzieller Erfolg aufgrund der Hitsingle "Runaway", einem alten 60er-Hit von Del Shannon. Insgesamt deckt die Platte ein breiteres Spektrum ab als bisher, von Folk mit Paul Siebels Klassiker "Louise" mit wunderschönen Tönen von David Grisman auf dem Mandocello (für Unbedarfte: eine zu groß geratene Mandoline), über gefühlvoller Balladen (z.B. "Two Lives" von Van Morrison-Keyboarder Mark Jordan, mit einem tollen Chor von Rosemary Butler und Michael McDonald, dem Meister der Backing-Vocals) und sogar Rock mit verzerrten Gitarren ("Gambling Man" von Eric Kaz) bis hin zu Soul und Funk (der Opener "About To Make Me Leave" mit der Hauptdarstellerin als Sängerin und Slide-Gitarristin in Höchstform). Schön ist auch die Interpretation der eher unbekannten Jackson Browne-Komposition "My Opening Farewell" von dessen Debütalbum. Der trotzdem sehr geschlossene Eindruck der Platte rührt aber nicht zuletzt daher, dass hier Bonnie Raitt mit ihrer festen und offensichtlich gut eingespielten eigenen Band im Studio war (Gitarrist Will McFarlane, Keyboarder Jeff Labes, Drummer Dennis Whitted und Bassist Freebo). Wenige Gäste setzen geschmackvolle Akzente: neben dem bereits erwähnten David Grisman sei nur Norton Buffalo mit seinem Wahnsinns-Mundharmonikasolo bei "Runaway" erwähnt. Dank dafür gebührt wohl nicht zuletzt Produzent Paul Rothchild, dem alten Elektra-Tonmeister, dem wir ja auch "L.A. Woman" von den Doors zu verdanken haben.
Mehr ...
Nick Lowe: "Bowi" (Stiff, Mai 1977)
Dies hier ist zwar nur eine 7"-EP mit vier Songs, aber eben Nick Lowe's erster Erfolg unter eigenem Namen. Der Titel ist natürlich ein Insider-Witz! Nicht verstanden? Versucht's mal mit Mausschubsen über dem Cover!
Hawkwind: "Quark, Strangeness & Charm" (Charisma, Juni 1977)
Das erste Hawkwind-Album ,das ich mir damals nicht mehr sofort gekauft habe, weil es mir zu poppig war. Auch das erste Album ohne Nik Turner. Und ein wirklich hässliches Cover, was damals wohl "modern" sein sollte. OK - für "Astounding Sounds..." bin ich auch nicht mehr sofort bei Veröffentlichung in den Plattenladen gestürmt, sondern hab mir das Album erst nach dem damaligen Livekonzert in der Essener PH zugelegt. Bei "Quark, ..." war aber erst mal für lange Jahre Schluss. Nun hab ich mir eine - zugegebenermaßen billige - CD aus der Grabbelkiste besorgt und finde die Platte eigentlich gar nicht so schlecht!!! Bob Calvert singt eigentlich ganz gut, fast poppig (bzw. "wavig")
Mink DeVille: "Cabretta" (Capitol, Juni 1977)
Wenn man 1977 debütiert und im New Yorker Club CBGB's auftritt, wird man schnell in die Punkrock/New-Wave-Ecke gestellt. Das passierte außer Blondie auch Willy DeVille und seiner Truppe - und hat beiden nicht geschadet. Natürlich spielten Mink DeVille keinen Punk, sondern eigentlich recht konventionellen, fast schon altmodischen Rock'n'Roll, allerdings mit einem kräftigen Hispano-Touch. Und sehr wild und frisch - genauso wie Punkrock eben ganz was anderes als der damalige Bombast- und Mainstream-Mist. Produziert wurde das Ganze übrigenz vom legendären Jack Nitzsche.
Laura Nyro in Concert: "Season Of Lights" (Columbia, Juni 1977)
Wiedergefunden in der Grabbelkiste.


(25.03.2012)
Mehr ...
Neil Young: "American Stars 'n Bars" (Reprise, Juni 1977)
Eine umstrittene, für mich in der Rückschau aber unterbewertete Neil Young-Veröffentlichung. Die Minuspunkte sind offensichtlich: (mal wieder) ein ziemlich hässliches Cover und dazu eine heterogene Songauswahl (aufgenommen zwischen 1974 und 1977). Deshalb gilt das Album für viele als "Resteverwertung". Aber es enthält zumindest einen Klassiker, das Crazy-Horse-Stück schlechthin: "Like A Hurricane", das sich aber auch zusammen mit einem weiteren Lied (das countryfizierte "Star Of Bethlehem" mit Ben Keith am Dobro, Emmylou Harris als zweite Stimme und den Nashville-Rhythmus-Assen Tim Drummond und Karl Himmel) auf dem Ende des gleichen Jahres erscheinenden 3fach-Sampler "Decade" befinden wird. Da ich mir damals schon "Decade" zugelegt hatte, gab es somit in den Jahren danach keinen Grund, auch "Stars&Bars" zu besitzen. Das habe ich auch jetzt erst mit der reichlich späten CD-Wiederveröffentlichung nachgeholt. Festzustellen ist dabei: eine schöne Mischung aus deftigem "Crazy Horse"-Sound (Billy Talbot, Ralph Molina und Frank Sampedro sind auf den meisten Liedern dabei), auf der einen Seite - den ich sehr mag, und der Country-Seite von Mr. Young (also eher der "Harvest"-Stil), den ich mindestens genauso mag. Das passt für mich alles sehr gut zusammen!


(19.08.2003)
Elvis Costello: "My Aim Is True" (Stiff, Juli 1977)
"With just four 3-hour sessions spread over 2 days the young but mature Elvis recorded one of the finest debut albums ever. Jake Riviera, his manager, described him as "Baggy-suited and bespectacled, a Buddy Holly on acid!"
Das Debüt, noch ohne die Attractions, aber schon mit den tollsten Songs: "Allison", "Miracle Man" und "Mystery Dance". Produziert hat Nick Lowe, die Begleitband wird von der damals in London ansässigen amerikanischen "Pubrock"-Band Clover gestellt. Clover gelang selber nie der Durchbruch, hatte aber ein paar danach zum Teil berühmt gewordene Mitglieder: John McFee (ging zu den Doobie Brothers), Alex Call (wurde ein gefragter Songschreiber), John Ciambotti (war später für lange Jahre der Bassist von Lucinda Williams) und natürlich Huey Lewis und sein treuer Keyboarder Sean Hopper.
"The Count Bishops" (Chiswick, Juli 1977)
Mitten im Punkrock und der absterbenden Pubrockszene sorgte diese R&B-Truppe in England für einen kurzen Moment für Furore: zu alt(modisch) für Punker, zu hart für die normalen Rockfreunde. Vielleicht die bösen Verwandten von Dr. Feelgood? Übrigenz spielte kein "richtiger" Engländer in der Truppe: Sänger David Tice wurde zwar in England geboren, wuchs aber in Australien auf und kehrte dahin nach "Karriere-Ende" auch wieder zurück. Trommler Balbi war ebenfalls Australier, Johnny Guitar war Amerikaner, Bassist Steve Lewins kam aus Irland und Rhythmusgitarrist Zenon de Fleur hatte polnische Wurzeln.
Mehr ...
Crosby, Stills & Nash: "CSN" (Atlantic, Juli 1977)
Es war eigentlich nicht zu erwarten, das CS&N ohne Y noch mal ein respektables Album hinkriegen würden. "CSN" enthält mit "See The Changes" eine Akustikballade im Stil des Debüts und mit "Dark Star" einen gelungenen Rocker. Auch Crosby schafft mit "Shadow Captain" eine gute Nummer, Nash mit "Cathedral" und "Just A Song Before I Go" sogar zwei.
Grateful Dead: "Terrapin Station" (Arista, Juli 1977)
Nachdem ihr eigenes Label finanzielle Probleme bekam, unterschrieben die Dead zum zweiten Mal bei einer Major-Company. Clive Davis, der in den 60ern die Band gerne für seinen damaligen Arbeitgeber CBS verpflichtet hätte, war inzwischen Chef im eigenen Laden Arista. Erstmals seit "Anthem Of The Sun" (1968) gab es mit Keith Olsen, der gerade mit Fleetwood Mac's "Rumours" einen gigantischen Erfolg feierte, auch einen externen Produzenten. Der Aufschrei war dann groß: MAINSTREAM! SCHRECKLICH! Kurioserweise wurde "Terrapin Station" dann aber eher das "Progrock-Album" der Band, was vielleicht am Titelsong liegt, der die ganze B-Seite einnimmt und mit Orchester- und Choreinsätzen daherkommt. Dabei übersieht man die guten Songs der A-Seite: Bob Weir's "Estimated Prophet" ist ein genialer Reggae im 7/4-Takt, "Passenger" der erste Phil Lesh-Song seit Mars-Hotel-Zeiten, "Sunrise" das einzige Dead-Stück, das von Donna Godchaux gesungen und komponiert wurde: hat natürlich nix mit echtem "Dead-Sound" zu tun, ist aber eine schöne, vielleicht einen "Tacken" zu kitschig-bombastische, Ballade.
The Rumour: "Max" (Vertigo, Juli 1977)
Würdet Ihr Euch für eine Platte der East-Street-Band ohne Bruce Springsteen interessieren? Wahrscheinlich nicht. Aber bei der Begleitband von Graham Parker klappt das erstaunlich gut. Schließlich haben die Gitarristen Brinsley Schwarz und Martin Belmont sowie Keyboarder Bob Andrews auch schon vorher in interessanten Bands gespielt (Brinsley Schwarz bzw. Ducks Deluxe).


(09.04.2010)
Mehr ...
Joan Armatrading: "Show Some Emotion" (A&M, Sept. 1977)
Dies ist für mich das überzeugendste Album von ihr: gerade der Titelsong mit der Gitarrenarbeit von Joan (akustisch) und Jerry Donahue (elektrisch), aber auch "Warm Love", "Opportunity" und die Ballade "Willow" überzeugen. Produziert hat Glyn Johns, am E-Piano ist mehrmals Georgie Fame dabei.
"Karla Bonoff" (Columbia, Sept. 1977)
Karla Bonoffs Debüt enthält einige Songs, die erfolgreich von anderen Sängerinnen interpretiert wurden: mit "If He's Ever Near", "Someone To Lay Down Beside Me" und "Lose Again" gibt's gleich 3 davon auf Linda Ronstadt's Album "Hasten Down The Wind", "Isn't It Always Love" wurde von Nicolette Larson aufgenommen und Bonnie Raitt sang "Home". Karlas eigene Versionen brauchen sich aber überhaupt nicht dahinter verstecken!
Randy Newman: "Little Criminals" (Warner, Sept. 1977)
Ausnahmsweise fand sich Randy Newman mit dem Lied "Short People" sogar in den Charts wieder. Viel besser gefallen mir aber andere Lieder von der Platte, z.B. "Baltimore" oder "Rider In The Rain".
Pete Townsend/Ronnie Lane: "Rough Mix" (Polydor, Sept. 1977)
Obskures Duo-Projekt von zwei alten Helden der englischen Rockmusik, in Szene gesetzt vom Star-Produzenten Glyn Johns unter Zuhilfenahme solch prominenter Gäste wie Eric Clapton, Gallagher & Lyle, Charly Watts u. a. - und trotzdem ein Flop. Deshalb (mal wieder) eine Wühltischentdeckung von mir. Pete Towsend, den Mastermind der Who, kennt sicherlich jeder. An's Herzen legen möchte ich Euch aber Ronnie Lane, Ex-Bassisten der Small Faces (mit Steve Marriot) und der Faces (mit Ronnie Wood und Rolf Stuttgart), der vielleicht nicht der beste Sänger ist, aber schon immer schöne Songs schrieb.
Steely Dan: "Aja" (ABC, Sept. 1977)
"Aja" ist meine klare Lieblingsplatte des Duos Becker/Fagan. Es sind wie immer exzellente Musiker dabei, die die Ideen der beiden umsetzen (z.B. Wayne Shorter), aber der Star sind für mich die Songs: "Black Cow", "Aja", "Deacon Blue", "Home At Last" und "Peg". Über die Entstehung der Platte gibt's übrigens ein tolles Video aus der Reihe "Classic Rock Albums".
Motors: "1" (Virgin, Sept. 1977)
Das Debüt der Ex-Ducks-Deluxe-Musiker Nick Garvey und Andy McMasters, endlich mit dem Erfolg, der vorher leider nicht gelang: "Dancing The Night Away" stürmte die Charts. Die gestandenen Rocker wurden damals sogar irrsinnigerweise als Punkrocker verkauft.
Dennis Wilson: "Pacific Ocean Blue" (Columbia/Caribou, Sept. 1977)
Einziges Soloalbum des Beach Boys-Drummers. Vielleicht kein so begnadeter Sänger wie seine beiden Brüder Brian und Carl und auch sicherlich kein so genialer Komponist wie Brian, aber immerhin der Autor eines meiner liebsten Beach Boys-Songs: "Forever" vom 1970er Album "Sunflower". Insgesamt ein wunderschönes, sehr orchestrales Album. Und deutlich besser als das, was die Beach Boys selber zur gleichen Zeit zustande brachten, die mehr und mehr zu eine Oldieband degenerierten.
Mehr ...
David Bowie: "Heroes" (RCA, Okt. 1977)
Zusammen mit den Produzenten Tony Visconti, Brian Eno und Gitarrist Robert Fripp entstand in Berlin dieser Höhepunkt in Bowies langer Karriere.
Graham Parker & The Rumour: "Stick To Me" (Vertigo, Okt. 1977)
"Stick To Me" ist bereits das dritte vorzügliche Album von Graham Parker und seiner Band innerhalb kürzester Zeit!
Mehr ...
Tyla Gang: "Yachtless" (Beserkley, Okt. 1977)
Sean Tyla war mit seiner Band Duck Deluxe einer der Pioniere des Pubrock. Bands wie die Ducks, Ace und Brinsley Schwarz brachten den Rock'n'Roll zurück aus den Stadien in die Kneipen, wo sie begeistert gefeiert wurden, wo allerdings wenig Geld zu verdienen war. RCA hatte die Ducks dann nach 2 kommerziell erfolglosen Alben auch schnell wieder rausgeworfen und beim US-Indie Berserkley konnte er mit der Nachfolgeband Tyla Gang den großen Erfolg als geniale Liveband im Studio ebenfalls nicht gleicherwertig umsetzen. Trotzdem ist zumindest dieses Debüt der Band für meinen Geschmack absolut gelungen! Im Studio geholfen hatten übrigenz die ehemaligen Ducks-Kollegen Nick Garvey und Andy McMasters, inzwischen unter dem Namen "Motors" so erfolgreich, wie Sean Tyla es mindestens genauso verdient hätte, sowie mein alter Held Deke Leonard von dem damals gerade frisch aufgelösten Man. Mit Leonard startete Tyla dann wenige Jahre später das völlig untergegangene Bandprojekt "The Force", bevor Leonard danach Man reaktivierte und Tyla gänzlich in der Versenkung verschwand.
Man: "All's Well That Ends Well" (MCA, Nov. 1977)
Schönes Dokument vom Abschiedskonzert einer meiner Lieblingsbands vom Dezember 1976 aus dem Londoner Roundhouse in der Besetzung Deke Leonard und Mickey Jones (Gitarren), Terry Williams (Schlagzeug), Phil Ryan (Tasten) und John McKenzie (Bass). Als die Platte damals erschien, war die Band schon Geschichte, weshalb sie sich auch wohl kaum verkauft hat und auch unter Man-Fans nicht so richtig beliebt ist. Ich dagegen mag sie sehr: enthält sie doch die einzige Man-Aufnahme des Bluesklassikers "Let The Good Times Roll", eng angelehnt an die Version von Ray Charles, die richtig gut rüberkommt und wohl nichts für harte Man-Fans ist!
John Martyn: "One World" (Island, Nov. 1977)
Der ehemalige Folksänger war inzwischen ganz im "Rock" angekommen und spielte fast nur noch E-Gitarre mit Space-Echo, seinem neuen Markenzeichen. Trotzdem überzeugt die Platte vor allem durch das gute Songmaterial und das gute Zusammenspiel der Musiker. Es spielen u. a. Danny Thompson (Kontrabass) und Steve Winwood (Synthesizer) und der jamaikanische Posaunist Rico.
Mehr ...
Neil Young: "Decade" (Reprise, Nov. 1977)
Ein wirklich guter Sampler. Auf drei LPs (bzw. 2 CDs) alle wichtigen Songs von 1966-76. Das ganze hatte bloß einen Haken: Der Besitz von "Decade" hat mich jahrelang davon abgehalten, mir die Originalalben zu besorgen!
Mehr ...
Jackson Browne: "Running On Empty" (Asylum, Dez. 1977)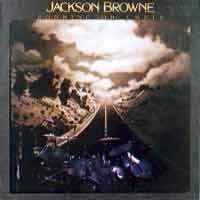 Ein sehr kurioses Livealbum, vielleicht sogar eines der besten Livealben der Rockmusik überhaupt. Eigentlich ist es eher ein Tourneetagebuch, denn die Aufnahmen entstanden nicht einfach nur auf der Bühne, sondern teilweise im Tourbus während der Fahrt (man hört den Bus !) oder im Hotelzimmer. Außerdem gibt's hier keinen "Best Of"-Mix, sondern neue Lieder, z.B. "Love Needs A Heart", das Browne mit Valerie Carter und Lowell George schrieb, oder Coverversionen, wie z.B. "The Road" von Danny O'Keefe. Erwähnenswert ist auch die erstklassige Band: David Lindley (lap steel, vio), Danny Kortchmar (g), Lee Sklar (bg), Russ Kunkel (dr), Craig Doerge (keyb) und die Sänger/innen Rosemarie Butler und Doug Haywood.
Gary Burton Quartet & Eberhard Weber: "Passengers" (ECM, 1977)
Zu Burtons Band gehörten damals der Bassgitarrist Steve Swallow, der noch sehr junge Pat Metheny an der Gitarre und Dan Gottlieb an den Trommeln. Unterstützt wurden sie vom Bassisten Eberhard Weber.
Valerie Carter: "Just A Stone's Throw Away" (Columbia, 1977)
Valerie verdient ihr Geld als Chorsängerin bei James Taylor, gelegentlich veröffentlicht sie aber auch Alben unter eigenem Namen. Auf ihrem 1977er-Debüt hören wir u. a. das für sie von Lowell George und John B. Sebastian geschriebene "Face Of Appalachia", das wir mit Waiting For Louise immer wieder gerne spielen.
Mehr ...
The David Grisman Quintet (US: Kaleidoscope 1977; D: Pastels 1979)
Ganz klar eines meiner Lieblingsalben! Quasi Ende der 70er meine erste Begegnung mit Bluegrassmusik, ohne das ich eigentlich so genau wusste, was das ist. Zu verdanken habe ich die Begegnung mit dieser wunderbare Platte - wie mit vielen anderen - Alan Bangs und seiner leider schon lange eingestellten Radiosendung "Niteflight" auf BFBS. Mit dem Wundergitarristen Tony Rice (damals ein junger Hippie und noch nicht der Grandseigneur der Bluegrassgitarre) und dem fantastischen Geiger Darol Anger. Natürlich ist David Grisman mit seinem unerreichten Mandolinenspiel der klare Mittelpunkt der Platte. Musikalischer Höhepunkt und auch die Nummer, die nach meiner Erinnerung damals bei Alan Bangs lief, ist das fast 10minütige "Dawg's Rag" mit großartigem Wechselspiel der Solisten.
Mehr ...
Gwendal: "A Vos Desirs (Rainy Day)" (Odeon, 1977)
Französischer Folkrock vom Feinsten, ähnlich Alan Stivell oder Malicorne.


(06.02.2016)
Mehr ...
Levon Helm & The RCO-Allstars (ABC, 1977)
Das Solo-Debüt des Ex-The Band-Drummers erschien kurz nach dem seines Kollegen Rick Danko. Mal wieder ein Album, dass ich damals aus der Grabbelkiste gezogen habe. Es war mir wegen des Covers mit dem ausgestanzten Loch in der Mitte aufgefallen. So was Schönes gibt's heute im CD-Zeitalter leider nicht mehr. Die RCO-Allstars spielten einen guten Rhythm'n'Blues und waren im Prinzip die Keimzelle der Blues Brothers: Steve Cropper, Duck Dunn, Alan Rubin, Lou Marini und Tom Malone.
Mehr ...
The Bernie Leadon - Michael Georgiades Band: "Natural Progression" (Asylum, 1977)
Aus der Grabbelkiste!


(08.04.2012)
Mangelsdorff/Pastorius/Mouzon: "Trilogue - Live" (MPS, 1977)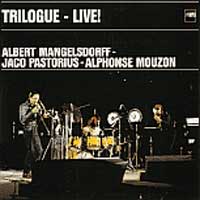 Live am 6.11.1976 auf den Berliner Jazztagen: für mich die beste Jaco Pastorius-Platte! Albert Mangelsdorff, Deutschlands (wenn nicht sogar welt-) bester Jazzposaunist im Trio mit Jaco und dem Jazzfusiontrommler Alphonse Mouzon. Posaune/Fretless-Bassgitarre/Schlagzeug - das scheint ja erstmal eine ungewöhnliche Kombination zu sein, aber es funktioniert wunderbar! Für Mangelsdorff nichts ungewöhnliches, der viel im Trio, also ohne Pianisten oder Gitarristen, spielt. Und Jaco hat hier soviel Platz für sein geniales Basspiel wie sonst nirgendwo.
Mehr ...
Roger McGuinn: "Thunderbyrd" (Columbia, 1977)
Ein Schelm, wer bei dem LP-Titel nicht an McGuinns alte Band denkt! Mit seinen neuen Begleitern Rick Vito (g), Charlie Harrison (bg) und Greg Thomas (dr) war er damals auch in einer der Rockpalastnächte und lieferte dort ein sehr gutes Konzert ab. Interessanterweise covert McGuinn hier "American Girl" von Tom Petty. Petty ist Byrds-Fan und die ganze Nummer klingt so, als wäre sie für McGuinn gemacht worden.
Stephan Micus: "Implosions" (ECM/Japo, 1977)
Keine Ahnung, wie ich damals auf diese Platte gekommen bin. Höchstwahrscheinlich nicht wegen der japanischen Mundorgel auf dem Cover, die eine gewisse Ähnlichkeit mit gewissen Rauchgeräten hat.
Stephan Micus ist ein deutscher Weltenbummler, der seit seinem 16ten Lebensjahr unterwegs ist und überall exotische Instrumente sammelt und zu spielen lernt, um damit seine eigene, eigenwillige Musik zu machen. Auf dieser ersten Platte für das Unterlabel Japo des berühmten Münchener Jazzlebels ECM ist das neben einer normalen Gitarre, seiner Stimme, dem abgebildeten Sho, Shakuhachi (japanische Flöte), Rabab (afghanische Laute), Sitar (Indien) und einer namenlosen Flöte aus Thailand noch etwas ganz Exotisches: eine bayrische Zither. Auf allen diesen Instrumenten spielt der Künstler eine schöne, entspannte und so garnicht kitschige Musik, weit weg von nervigem Ethno-Gedudel oder New Age.
Danny O'Keefe: "American Roulette" (Warner, 1977)
Eines der Kultalben von Danny O'Keefe. Auf Vinyl sehr rar, auf CD leider bisher gar nicht erschienen. Mein Exemplar stammt natürlich wieder aus der Grabbelkiste!
Es gibt endlich eine Wiederveröffentlichung CD! Hat lange gedauert! In letzter Zeit höre ich die Platte wieder sehr oft, besonders das wunderschöne "You Look Just Like A Girl Again" mit dem tollen Saxofon von Tom Scott, von dem es immerhin Coverversionen von Mark-Almond (einem Sänger/Gitarrist - Saxophonist-Duo, das die Nummer eigentlich nur nachspielt) und - jetzt bitte nicht lachen - Ute Lemper gibt, deren Version habe ich aber noch nie gehört habe.
Zurück zur Platte, auf der wirklich jedes Lied toll ist und eine enorme Stilvielfalt geboten wird, ohne dabei beliebig oder zerfahren zu wirken: Folk, Country, Funk, harter Blues-Rock, tolle Streicherarrangements. Eben "Singer/Songwriter-Musik" in Perfektion. Keine Ahnung, warum dieses Platte damals so ein Ladenhüter war und auch heute noch immer niemanden zu interessieren scheint!
(12.05.2006)
Bob Young & Mick Moody: "Young & Moody" (United Artists/Magnet, 1977)
Zwei Kumpels aus der zweiten Reihe nehmen zusammen eine Platte auf - anscheinend ohne kommerziellen Druck - und fröhnen ihrer Liebe zu country-, folk- und blueslastigem Rock á la The Band. Als ich die Platte damals für einen Fünfer aus der Grabbelkiste gezogen habe, kannte ich noch keinen der Beteiligten. Bob Young ist zwar kein Rocker, hat aber für Country und Folk eine durchaus angenehme Stimme und glänzt vor allem als Mundharmonikaspieler. Er verdient ansonsten sein Geld als Songschreiber, Roadmanager und Gelegenheitsharpspieler bei Status Quo. Mick Moody hat die Gitarre schon in zahlreichen Bands gespielt: mir fallen aber gerade nur Snafu (kennt kaum noch jemand) und Whitesnake (ja, genau die!) ein. Hier glänzt er besonders auf dem Dobro, das er bei David Coverdale sicherlich selten oder gar nicht einsetzen darf. Bass und Schlagzeug werden vorzüglich von Terry Stannard bzw. Graham Prescett bedient. Letzterer überzeugt zusätzlich bei den Folkstücken mit Geige und Mandoline.
Sicherlich kein wichtiges Album - aber ein schönes, das ich mir auch 30 Jahre nach der Anschaffung noch (bzw. wieder) gut anhören kann. Und wahrscheinlich nix für Whitesnake- und Quo-Fans!


(09.04.2010)
Townes van Zandt: "Live At The Old Quarter, Houston Texas" (Tomato, 1977)
Bereits Juli 1973 wurde dieses Live-Doppelalbum in dem legendären Club mitgeschnitten. Für viele Fans das beste Album von ihm: TVZ ganz pur. Ob man sich dem anschließt oder nicht: es ist auf jeden Fall sein bestes Solo-Live-Album, von denen es inzwischen ja weit mehr als 10 gibt. Ich besitze allein 9 Stück. Aber das ist so wie mit den Grateful Dead-Livealben: jedes ist anders, einige sind toll, viele gut, manche aber leider auch überflüssig.