Das Album des Jahres
The Jayhawks: "Hollywood Town Hall" (American, Sept. 1992)
Für mich ist diese Platte einer der Höhepunkte des Jahres 1992: zwei tolle Sänger/Gitarristen/Songschreiber (Mark Olson - eher der Sänger/Songschreiber, Gary Louris - eher der Gitarrist) schufen unter der Produktionsaufsicht von George Drakoulias eine der besten Country-Rock Platten überhaupt, wobei klar der Rock im Mittelpunkt steht. Später trennten sich die Wege der beiden: Mark Olson kümmerte sich um seine schwerkranke Frau Victoria Williams und nimmt mit ihr seitdem obskure Platten unter dem Namen "The Original Harmony Ridge Creek Drippers" auf, während Louris die Jayhawks weiterführte, allerdings weg vom Country.
weitere Highlights ...
Blumfeld: "Ich-Maschine" (Zickzack, Jan. 1992)
Diese Platte war zwar nie ein Verkaufsrenner, ist aber definitiv eine der wichtigsten deutschsprachigen Rockalben!
Emmylou Harris & The Nash Ramblers: "At The Ryman" (Reprise, Jan. 1992)
Das Ryman-Theater in Nashville/Tennessee war lange die Heimat der "Grand Old Opry". An diesem für Bluegrass- und andere Countrymusiker erfurchtsvollen Ort hat Emmylou Harris mit ihrer akustischen Band ihr Livealbum mitgeschnitten. Das Klangergebnis ist das, wo wir mit Waiting For Louise auch gerne hin möchten: ein Bluegrassinstrumentarium mit stärkerer Betonung des Rhythmus durch Einsatz von Schlagzeug. Leider kam es zu keiner Studioproduktion mit dieser hochkarätigen Truppe:
Sam Bush - Mandoline & Geige (Ex- New Grass Revival)
Roy Huskey, Jr. - Kontrabass
Larry Atamanuik - Schlagzeug (Ex- Seatrain, Sam Bush Band)
Jon Randall - Gitarre (Sam Bush Band)
Al Perkins - Dobro & Banjo (Ex- Stephen Stills & Manassas)
Das Songmaterial ist vom Feinsten: "Walls Of Time" (Bill Monroe/Peter Rowan) und "Guess Things Happen That Way" (Jack Clement, Hit von Johnny Cash) haben wir auch bei Waiting For Louise in's Repertoire übernommen, dazu kommen "Guitar Town" von Steve Earle, "Lodi" von CCR, "Mansion On The Hill" von Bruce Springsteen, zwei weitere Bill Monroe-Nummern und noch vieles mehr. Auch das gleichnamige Video ist empfehlenswert.
Lou Reed: "Magic And Loss" (Sire, Jan. 1992)
Der Nachfolger zu "New York", wieder in der Besetzung 2 Gitarren (Reed und Mike Rathke), Bass (Rob Wasserman) und Schlagzeug (Mike Blair statt Fred Maher) eingespielt. Die Perfektion dieses Sounds wird vorangetrieben ...
Chris Bell: "I Am The Cosmos" (Rykodisc, Feb. 1992)
Chris Bell ist einer der vielen verschollenen Legenden, die es zu Lebzeiten nie zu großem Erfolg gebracht haben (Nick Drake, Tim Buckley, Gram Parsons). Im Vergleich zu den dreien war Bell sogar noch erfolgloser: Anfang der 70er gründete er mit Alex Chilton die inzwischen ebenfalls legendären, aber damals ziemlich erfolglosen Big Star, verließ diese allerdings bereits nach dem Debütalbum "#1 Record". 1974 kam dann einzig und alleine eine Single heraus, "I Am The Cosmos"/"You And Your Sister". Letzteres ist eines der schönsten Liebeslieder, das ich kenne und eines der besten Beatlesstücke, das nicht von den Fab Four stammt. Danach arbeitete er an seinem Debütalbum, verstarb aber noch vor der Fertigstellung bei einem Autounfall. Somit erscheint dieses Album also erst posthum mit einiger Verspätung. Ich kann nur vermuten, dass die überzeugenden Coverversionen der beiden Singletracks auf "Blood", dem letzten Album der Band This Mortal Coil vom vergangenen Jahr, ihren Anteil daran haben, auch alle anderen Aufnahmen von Chris Bell herauszubringen.
Mehr ...
Guy Clark: "Boats To Build" (Elektra/Asylum, Feb. 1991)
Nach Alben bei RCA und Warner war dies der dritte Versuch, diesen beeindruckenden texanischen Singer/Songwriter bei einer großen Firma raus zu bringen. Wie immer stimmt musikalisch alles, wie immer wurden nicht genug Platten verkauft. Auch das Songmaterial kann nicht genug gelobt werden, z.B. "Picasso's Mandolin" .
James: "Seven" (Fontana, Feb. 1992)
Meine Lieblingsband aus Manchester - wohl die einzige "Stadionrockband", die ich mag.
Little Village (Reprise, Feb. 1992)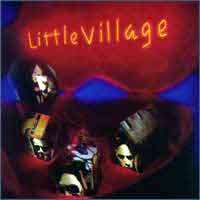 Diese Band war ein einmaliges Projekt von Stars der 2. Garnitur (wenn man nur nach den Verkaufszahlen ihre Platten und ihrem allgemeinen Bekanntheitsgrad geht). Slidegitarrist und Filmmusikkomponist Ry Cooder, Sänger, Gitarrist und Songschreiber John Hiatt, Sänger, Bassist und Songschreiber Nick Lowe und Schlagzeuglegende Jim Keltner hatten in dieser Besetzung bereits auf Hiatts Meisterwerk "Bring The Family" zusammengearbeitet, an dessen Qualität sie hier aber knapp vorbeischrammen. Trotzdem eine schöne Platte.
Yo La Tengo: "May I Sing With Me" (Alias, Feb. 1992)
Schon seit Mitte der 80er werkelt das Ehepaar Ira Kaplin (Gitarre) und Georgia Hubley (Schlagzeug) mit wechselnden Bassisten (hier: James McNew) an ihrer Synthese aus Krach und Wohlklang mit einer starken Verwurzelung bei den Kinks, Velvet Underground und den Beach Boys. Empfehlenswert ist neben dieser LP auch die Maxi "Upside-Down" zum Album mit einer Beach Boys-Nummer und einer 23-minütigen Feedbackorgie.
Juliana Hatfield: "Hey Babe" (Mammoth, März 1992)
Solodebüt der ehemaligen Bassisten der Blake Babies, einer charmanten Indie-Band, die kaum noch jemand kennt. Sie war 1992 auch für kurze Zeit bei den Lemonheads, falls das jemand wissen will. Eine wirklich aparte Lady!
Mehr ...
k.d. lnag: "Ingenue" (Sire, März 1992)
The Vulgar Boatmen: "Please Panic" (Record Collect, März 1992)
Wenn überhaupt kennt man die Band meist nur als Silos-Nebenprojekt. Zwar gibt es personelle Überschneidungen, aber Dale Lawrence und Robert Ray, die beiden Kernmitglieder dieses losen Kollektivs, sind eigenständige Musiker und Songschreiber und brauchen eigentlich keine Protektion durch die Silos-Connection.
Ich hab die Band damals auf ihrer einzigen (?) Europatournee im Bahnhof Langendreer gesehen und das letzte T-Shirt mit dem Plattencover ergattert. Yeah!
Mehr ...
Barbara Gosza: "Beckett & Buddha" (Strange Ways, Apr. 1992)
Die neue Platte von Andrea Schröder, kürzlich erst im Glitterhaus erschienen und dort extrem schnell in's Billigpreis-Segement abgeschoben, hat mich meine beiden alten CDs von Barbara Gosza ausgraben lassen, von denen mir diese zweite, produziert von Sven Regener, besonders an's Herz gewachsen ist: wunderschöner Folkpop, immer leicht traurig, aber immer auch wunderschön.
Ich hab natürlich mal losgeguggelt, was denn aus der Dame geworden ist: sie ging nach Frankreich, soll dort noch zwei Alben bei einer großen Plattenfirma gemacht haben, die mir aber völlig unbekannt sind. In den letzten Jahren kehrte sie nach Berlin zurück und arbeitete mit Carlos Peron (der Typ von Yello?) an einer Comeback- Platte für das Blue Note-Label. Im Mai 2011 ist sie dann tot in ihrer Wohnung in Berlin aufgefunden worden - das ist alles, was ich bisher herausfinden konnte. Sehr traurig!
(25.12.2012)
Das dritte Album heißt "Ceremonies", stammt von 1995 und ist beim damaligen Branchenriesen BMG/Ariola erschienen. Vor wenigen Tagen hab ich die CD in der Grabbelkiste gefunden!
(31.12.2012)
P.J. Harvey: "Dry" (Too Pure, April 1992)
Mit diesem spartanisch instrumentierten Debüt (kaum mehr als Gitarre, Bass & Schlagzeug sind zu hören) sicherte sich Polly Harvey aus dem Stand ihren Platz in der Riege der besten britischen Songschreiberinnen!
XTC: "Nonsuch" (Virgin, Mai 1992)
Nonsuch ist das letzte einer langen Reihe exzellenter Alben, die von dieser Band um die beiden Songschreiber Andy Partridge (Gitarre) und Colin Moulding (Bass) und ihren Leadgitarristen Dave Gregory bei Virgin veröffentlicht wurde. Mit "Peter Pumpkinhead" gab's sogar noch mal einen kleineren Hit. Am Schlagzeug saß diesmal Dave Mattacks von Fairport Convention. Produziert hatte der Altmeister Gus Dudgeon (Elton John, Joan Armatrading, etc.)
Yo La Tengo: "Upside-Down" (Alias, Juni 1992)
Luna²: "Lunapark" (Elektra, Aug. 1992)
So was wie eine Indie-Allstar-Band bei einem Majorlabel: Sänger/Gitarrist Dean Wareham, Ex-Galaxy 500, Drummer Stan Demeski, Ex-Feelies, und Bassist Justin Harwood, Ex-Chills.
Mehr ...
Screaming Trees: "Sweet Oblivion" (Epic, Sept. 1992)
Die Screaming Trees kommen wie Pearl Jam, Soundgarden und Nirvana aus Seattle und spielen ebenfalls harten Gitarrenrock, ebenfalls ohne eine Metalband zu sein - GRUNGE! Sie verfügen mit Mark Lanegan über einen ausgezeichneten Sänger, der auch wunderbare folkige Soloalben veröffentlicht, und mit den Brüdern Gary Lee und Van Conner über ein sehr beeindruckendes Gitarre/Bass-Tandem (musikalisch und wegen der Leibesfülle der beiden auch physisch beeindruckend!)
"Television" (Capitol, Sept. 1992)
Nach 14 Jahren Unterbrechung und völlig überraschend für mich das dritte und namenlose Television-Album, sogar in Originalbesetzung. Sehr viel besser als die meisten Reunions dieser Zeit, aber leider auch völlig untergegangen. Schade. Tom Verlaine, Robert Lloyd, Fred Smith und Billy Ficca hätten sicherlich mehr Aufmerksamkeit verdient gehabt.
"Paul Weller" (Go! Discs, Sept. 1992)
Das Solodebüt des Ex-Bandleaders von The Jam und The Style Council hätte ich doch fast vergessen! Komischerweise bin ich hier begeistert, habe mich aber für beide Vorläuferbands zu ihrer Zeit nie richtig interessiert. An ein Konzert von ihm Mitte der 90er in der Essener zeche Carl kann ich mich noch gut erinnern: der Saal war völlig überfüllt (mit einem für Rockkonzerte unheimlich hohen Anteil hübscher Mädchen im Publikum!), ich hatte eine fiebrige Grippe und konnte mit Mühe einen Stehplatz an der Wand ergattern. Pauls Auftritt war genial, zwischendurch gab's sogar mitten in einen anderen Song eingebaut "Ohio" von Mr. Young.
Mehr ...
Beat Happening: "You Turn Me On" (Sub Pop/K Records, Okt. 1992)
Die Band von Calvin Johnson, dem ewigen Geheimtipp!
Mehr ...
John Cale: "Fragments Of A Rainy Season" (Hannibal, Okt. 1992)
Der ehemalige Velvet Underground Bassist/Bratschenspieler live und solo am Piano und an der akustischen Gitarre. Mit der amtlichen Version von Leonard Cohens "Hallelujah", von der alle anderen, auch Jeff Buckley, abgeguckt haben. Ein tolles Konzert muss das gewesen sein. Trotz (?) des Fehlens einer Band nie langweilig. Und wehe, da sagt jemand was von "MTV Unplugged".


(23.12.2006)
Mary-Chapin Carpenter: "Come On, Come On" (Columbia, Okt. 1992)
Mit diesem Album schaffte die Sängerin und Songschreiberin endlich den großen Durchbruch - allerdings mit einer Coverversion der Lucinda Williams-Nummer "Passionate Kisses". Mit ihren eigenen Stücken braucht sie sich aber nicht zu verstecken, z.B. "He Thinks He'll Keep Her" oder "I Feel Lucky".
Come: "Eleven:Eleven" (Sub Pop, Okt. 1992)
Debüt der Band um Gitarrist Chris Brokaw (früher mal Trommler bei der Sub Pop-Band Codeine) und Sängerin/Gitarristin Thalia Zedek (früher mal bei Live Skull, die aber außer mir scheinbar kaum jemand kennt oder mag). Eine wunderbare Mischung aus Krach und Melodie.
Mehr ...
Damon & Naomi: "More Sad Hits" (Shimmy Discs, Okt. 1992)
Damon Krukowski (Schlagzeug, Gitarre) und seine Lebensgefährtin Naomi Yang (Bass) waren mal die Rhythmusgruppe der legendären Galaxy 500. Nach der Trennung von ihrem damaligen Frontmann Dean Wareham, der die eher poporientierte Band Luna gründete, führten die beiden das alte Low-Fi-Slow-Core-Konzept weiter: dabei entstand diese charmante Platte, bei der sie wie schon bei Galaxy 500 von der New Yorker Gitarren- und Produzentenlegende Kramer unterstützt werden, der sonst eigentlich eher für harsche Töne bekannt ist.
Giant Sand: "Center Of The Universe" (Enemy/Black Sand, Okt. 1992)
Eines der unzähligen Alben von Howe Gelb und seinen Begleitern Joey Burns (Bass) und John Convertino (drums), die dank Masse leider nicht alle klasse sind. Howe Gelb gehört sicherlich zu meinem Lieblingskünstlern, oft stört mich aber das Skizzenhafte/Unfertige vieler seiner Aufnahmen. Versteht mich nicht falsch: ich stehe total auf schräges und unkonventionelles Zeug, finde aber, dass Howe Gelb es oft übertreibt mit dem Unkommerziellen. Wenn dann ein Album wie dieses hier mal wieder etwas stärker auf den Punkt kommt, wirkt das gleich wie ein kleines Wunder. Vielleicht liegt die Kompaktheit dieses Albums aber auch am Einfluss der Gäste? Victoria Williams, Vicki Peterson (Ex-Bangles, jetzt Continental Drifters) und Susan Cowsill (ebenfalls Continental Drifters) sorgen mit ihren Stimmen für ein paar zusätzliche und sehr angenehme Klangfarben.
R.E.M.: "Automatic For The People" (Warner, Okt. 1992)
Der Megaseller der Truppe. Man kommt nicht dran vorbei. Geniale Songs. Starke Videos. Perfekt.
Sugar: "Copper Blue" (Creation, Okt. 1992)
Nach Hüsker Dü und zwei sehr unterschiedlichen Soloalben für Virgin (u. a. das geniale "Workbook") hatte Bob Mould wieder ein Trio am laufen, wobei Sugar sicherlich nicht so spannend und wichtig sind wie Hüsker Dü es mal waren, aber eben auch etwas erfolgreicher. Mit "If I Can't Change Your Mind" gibt's sogar eine kleinen Hit, den wir auch mit Waiting For Louise eine Zeit lang im Programm hatten.
Uncle Tupelo: "March 16-20, 1992" (Rockville, Okt. 1992)
Als dieses Album Ende 1992 erschien interessierte sich eigentlich niemand so richtig dafür: eine "Independent"-Band spielt depressive Country-Musik? Heute gelten die beiden Sänger/Gitarristen der Band, Jay Farrar und Jeff Tweedy, mit ihren etwas erfolgreicheren Nachfolgerbands Son Volt bzw. Wilco, als Urväter der Alternative-Countryrock-Szene. Die Postille dieser Szene "No Depression" hat sich übrigens nach dem Song des Debüts von Uncle Tupelo benannt.
Neil Young: "Harvest Moon" (Reprise, Okt. 1992)
20 Jahre nach "Harvest" bringt der Meister "Harvest Moon" - und macht durch die Wahl der Begleiter (u. a. Ben Keith an der Pedalsteel, Chorgesang von Linda Ronstadt und James Taylor) ganz offensichtliche Bezüge zum Vorläufer. Manche schreien "Plagiat!" - ich kann aber nur feststellen, dass Songs und Zusammenspiel 1.Klasse sind: also was soll's?
Baby You Know: "Clear Water" (Sub Up, 1992)
Zweites Album der Band aus Regensburg, die mit ihrem "Americana"-Sound zur falschen Zeit am falschen Platz war. Produziert von Go-Between Robert Forster, der damals zusammen mit seiner Frau (und geigendem Bandmitglied) Karin Bäumler auch in Bayern wohnte. Sozusagen Nachbarschaftshilfe.
Mehr ...
Bettie Serveert: "Palomine" (4AD/Guernica, 1992)
Der Titelsong vom Debütalbum war in jenem Jahr eines meiner absoluten Lieblingslieder. Tolle Band aus unserem Nachbarland Holland, erreichte aber leider nie die Aufmerksamkeit, die sie verdient gehabt hätte!
Mehr ...
T-Bone Burnett: "The Criminal Under My Own Hat" (Columbia, 1992)
Ein weiteres unbeachtetes Album des Mannes, der in den frühen 70ern in der Alpha Band spielte (Kult!) und bei Dylans Rolling Thunder Revue dabei war. Später machte er sich dann einen Namen als Produzent (u. a. für Leo Kottle, Los Lobos, BoDeans, Peter Case, Elvis Costello's "King Of America" und "Spike", Gattin Sam Phillips und Bruce Cockburn's "Nothing But A Burning Light"), alles am ehesten noch als traditionsbewusste, aber trotzdem moderne amerikanische Popmusik zu bezeichnen (heute nennt man das "Americana"). Auch dieses Soloalbum bringt die Welten Rock/Elektrisch (Drummer Jim Keltner, die Gitarristen Marc Ribot und Dean Parks, etc) und Bluegrass/Akustisch (Bassist Edgar Meyer, Dobrospieler Jerry Douglas, Multiinstrumentalist Mark O'Connor u. a.) zusammen. Die glasklare und trotzdem kantige Produktion stammt von Burnett zusammen mit Bob Neuwirth, Kumpel aus alten Rolling-Thunder-Tagen.
Iris Dement: "Infamous Angel" (Warner, 1992)
Ein schönes Debüt, ähnlich wohlwollend aufgenommen wie Jahre später Gillian Welch. Es folgten noch zwei weitere Alben 1994 und 1996, seitdem herrscht leider Funkstille. Produziert hat übrigens der legendäre Jim Rooney (John Prine, Jerry Jeff Walker, Nanci Griffith, etc.)
Hank McCoy & The Dead Ringers: "Still Feeling Blue" (Normal/Okra, 1992)
Hank McCoy stammt aus Columus/Ohio und war beim dortigen Okra-Label für die Country-Sparte zuständig. Mit viel Wissen und Einfühlungsvermögen in diese Musik (das Cover ist z.B. eine Hommage an ein Conway Twitty-Cover von 1970), aber ohne diese dämliche Nashville-Trucker-Attitüde entstand dieses Album mit Eigenkompositionen und gutem Fremdmaterial (der Titelsong ist von Gram Parsons, weiter Songs von Roger Miller, George Jones und den Louvin-Brüdern). Im folgenden Jahr gab es mit den Labelkollegen Ricky Barnes, David Schramm (Ex-Yo La Tengo, The Schramms) und Jeb Loy Nichols (Fellow Travellers) dann noch das schöne Projekt "Okra Allstars".
"Vanessa Paradis" (Polydor/Remark, 1992)
Hey, wer unterstellt mir da unmusikalische Beweggründe? Natürlich ist Miss Paradis extrem hübsch, aber das ist in erster Linie eine wunderbare Platte! Vor allem, wenn man Lenny Kravitz-Fan ist, der hier alle Songs bis auf Lou Reeds "Waiting For My Man" beisteuert, produziert und viele der Instrumentalspuren selber eingespielt hat. Ich bin zwar selber kein wirklicher Fan von dem Mann, aber für mich liefert er hier sein Glanzstück ab, besser als manch ein "echtes" Kravitz-Album. Das Lied "Sunday Mondays" war sogar mal im Waiting For Louise-Repertoire.
Plainsong: "Dark Side Of The Room" (Line, 1992)
Das Comeback von Iain Matthews und Andy Roberts Projekt nach 20 Jahren! Während es damals nur eine kurzlebige Geschichte mit einem wunderbaren Album ("In Searh Of Amelia Earheart") und einer US-Tournee war, kommt die Truppe seit 1992 in unregelmäßigen Abständen für Alben und Tourneen zusammen. Mit an Bord neben den beiden Gründern sind Julian Dawson, britischer Singer/Songwriter und Harmonikavirtuose mit starker Köln-Connection und Mark Griffith (Bass, Gitarre), der mit Matthews schon auf mehreren Soloalben zusammengearbeitet hat.
Michelle Shocked: "Arkansas Traveller" (Mercury, 1992)
Für dieses Album streifte sie quer durch die USA und Irland und spielte überall mit fantastischen Musikern ihre Songs ein. Dabei waren u.a.: Ex- Flying Burrito und Ex-Eagle Bernie Leadon, die Hothouse Flowers, Uncle Tupelo (ich habe hier zum ersten Malvon ihnen gehört!), Taj Mahal, Mark O'Connor, Levon Helm und Garth Hudson von The Band, Clarence 'Gatemouth' Brown, Alison Krauss, Alison Brown, Doc Watson, Norman Blake und viele andere. Klasse!
Sonic Youth: "Dirty" (Geffen, 1992)
Mehr ...